Holladay, Utah
New Construction
Sheet Metal Contractor
Copper Exclusive
Midvale, Utah
Architect
Mark Christian Design
Holladay, Utah


Exquisite craftsmanship in copper roofing and architectural elements brings European charm and quiet elegance to this stately home.

This 10,000 sq. foot home located in a prestigious suburb of Salt Lake City, Utah, features diamond-shaped copper shingle roofing, along with a variety of other hand-crafted copper products from Copper Exclusive and its founder Erno Ovari. Outstanding craftsmanship and exquisite detailing combined with the naturally weathered look of the copper elements exude quiet elegance and reflect quality construction.

Among the impressive array of custom copper products designed, hand-made and installed by Copper Exclusive were:
6,000 diamond-shaped, interlocking copper shingles in 16 oz. copper installed on a 24:12 pitched roof.
Crown molding, soffit and fascia.
A gutter solution for very high difficulty roof-eave applications, including ornamental downspouts.
Double-locked standing seam roofing at the eave as a subsurface for the snow guard system.
700 snow hooks for the copper shingle roof.
A German double-pipe snow guard system.
Over 1,000' of inside and outside parapet molding with welded corners, hidden hold-downs and hidden fasteners.
Over 900' of 48" width parapet roofs with hidden fasteners and hidden expansion joints.
Specially-designed copper finials for the parapets.
A 3:12 pitched upper roof, with 6 skylights, using a double-locked standing seam system.
240' of designed ridge ventilation.
Chimney crown with stainless steel square-tube subsurface.
In total, 16,000 lbs. of hand-crafted copper products were used on the home. By employing time-tested craftsmanship and installation techniques, Copper Exclusive did not use any sealants or any soldering on the roof - aside from soldering the rain gutter.
Architectural Category: Flat Seam Roofs and Walls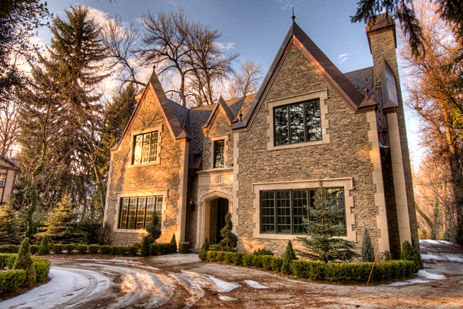 Photo Credit: David Daniels of Dav.d Photography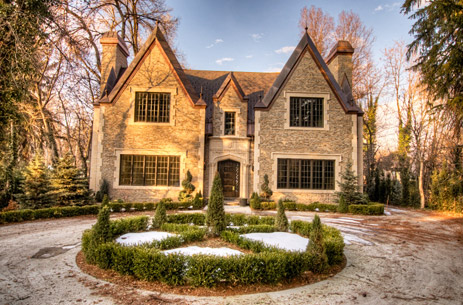 Photo Credit: David Daniels of Dav.d Photography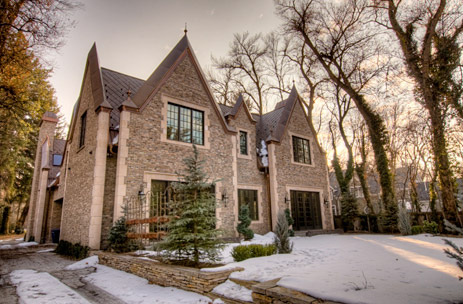 Photo Credit: David Daniels of Dav.d Photography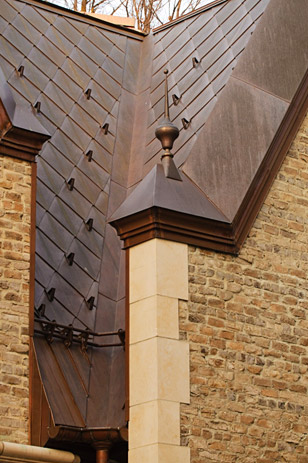 Photo Credit: David Daniels of Dav.d Photography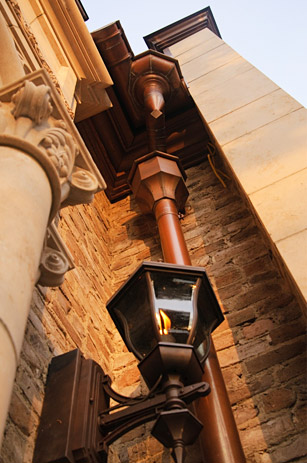 Photo Credit: David Daniels of Dav.d Photography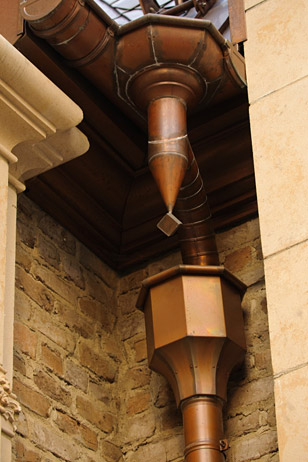 Photo Credit: David Daniels of Dav.d Photography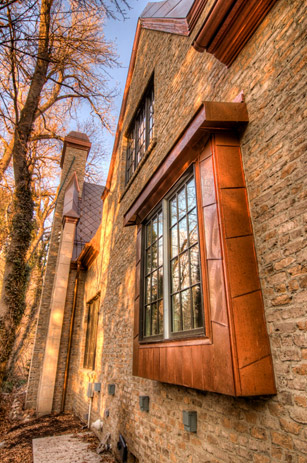 Photo Credit: David Daniels of Dav.d Photography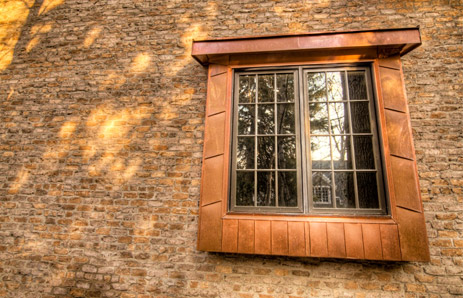 Photo Credit: David Daniels of Dav.d Photography