Mississauga, Ontario
New Construction
Architect
Perkins+Will
Toronto, Ontario
This pre-patinated copper wall cladding provides a distinct look both inside and out of this expansive new educational facility. The new University of Toronto Mississauga Instructional Centre accommodates a variety of interactive teaching spaces, study areas, student lounges and food services, within a new 150,000-square-foot facility at the north edge of the UTM Campus Ring Road.
The new building is situated in close proximity to the popular Hazel McCallion Academic Learning Centre. Together these buildings frame a new entry plaza at the north end of the campus and create a dynamic new hub of student life. Teaching spaces of various sizes, including a 500-seat and 350-seat lecture hall, stack vertically organized into three "towers" clad in a richly textured pre-patinated copper.
These solid volumes of the classrooms are punctuated by the internal circulation and a series of perimeter study lounges in order to animate the façade. This play of solid void, along with glazed atria and crush spaces between the towers, creates a porous facade along the campus ring road and encourages views and spatial flow through the building. The façade fronting onto the campus playing field is filtered by mature trees. Along the building's southern façade, a glazed gallery links the three towers and houses student lounges, a café and quiet study areas.
This space celebrates the natural beauty of the UTM campus and facilitates new public space connection at the north end of the campus. Together with the Learning Centre, the new Instructional Centre frames an entry plaza at the north end of the campus. The building's rich materiality resonates strongly with the surrounding natural landscape and creates a series of unique interiors.
To create the buildings signature material expression, interlocking vertical copper planks of various widths (6", 8" and 10") were randomly arranged into 4' wide groupings with a 1" vertical reveal between each group to create a panelized appearance. Each of the vertical planks was patinated with a hand-applied ammonia-based solution to create a rich and varied verdigris. The planks were rear mounted to a set of stainless steel horizontal furring channels, in turn fastened to vertical stainless steel Z-girts. The result is a copper rain screen cladding that provides a rich vertical expression that reads at a variety of scales.
The patinated finish is highly responsive to conditions of light and humidity, and as a result the building presents subtle variations in color and texture from day to day and hour to hour. On the interior, the same vertical plank system was used without the Z -girts and insulation. A clear, matt, acrylic sealer was applied to the copper to prevent direct human contact with the patina.
Construction Value: $55-M; Completion Date: August 2011.
Architectural Category: Standing Seam Roofs and Walls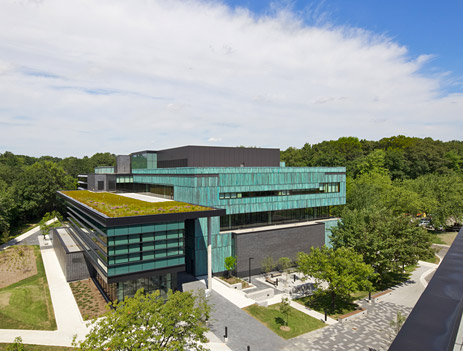 Photo Credit: Ben Rahn / A-Frame & Perkins+Will Canada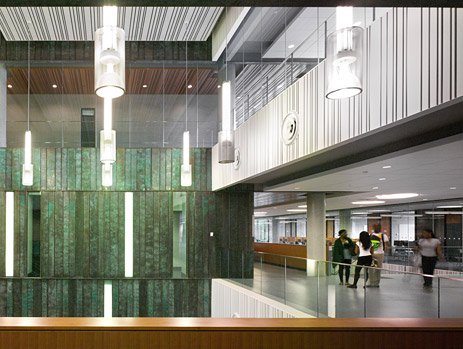 Photo Credit: Ben Rahn / A-Frame & Perkins+Will Canada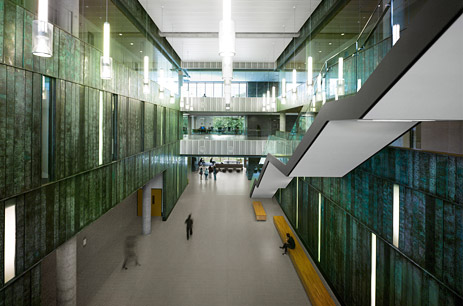 Photo Credit: Ben Rahn / A-Frame & Perkins+Will Canada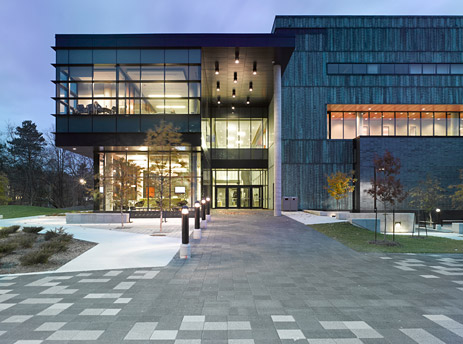 Photo Credit: Ben Rahn / A-Frame & Perkins+Will Canada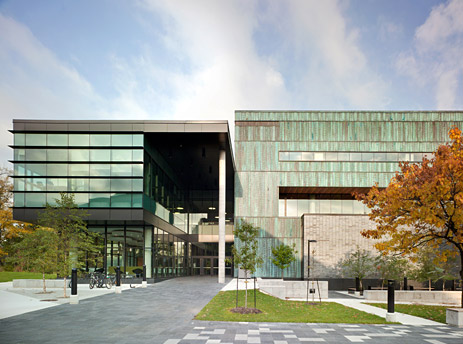 Photo Credit: Ben Rahn / A-Frame & Perkins+Will Canada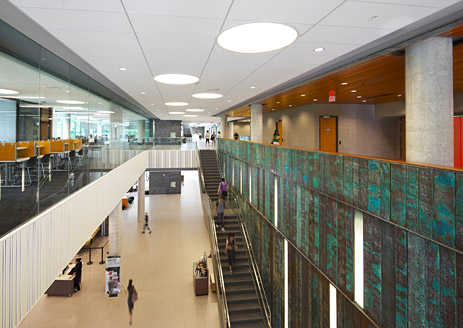 Photo Credit: Ben Rahn / A-Frame & Perkins+Will Canada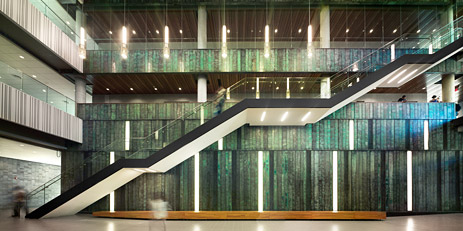 Photo Credit: Ben Rahn / A-Frame & Perkins+Will Canada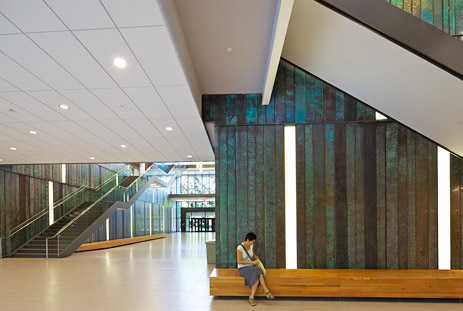 Photo Credit: Ben Rahn / A-Frame & Perkins+Will Canada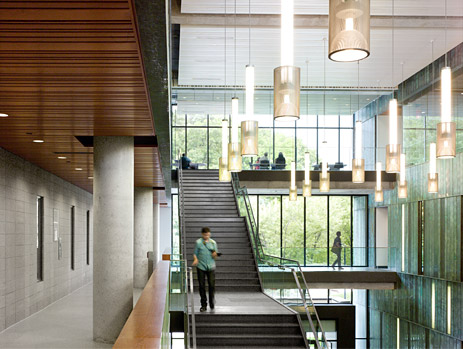 Photo Credit: Ben Rahn / A-Frame & Perkins+Will Canada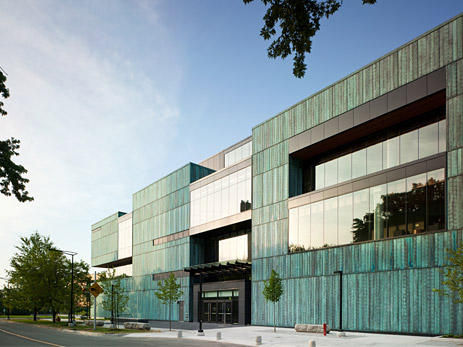 Photo Credit: Ben Rahn / A-Frame & Perkins+Will Canada