St. Louis, Missouri
Restoration
Architect
Quinn Evans Architects
Ann Arbor, Michigan
A new copper roof system has been added to the iconic courthouse building, which served as the site for a landmark civil case in American history. The Old Courthouse in St. Louis, Missouri, was constructed in 1828, and received major additions in 1839 and 1851. It was the site of several important legal cases including the trials leading up to the pivotal Dred Scott Supreme Court decision in 1857.
In order to preserve this important landmark, the NPS contracted with Quinn Evans Architects to design a replacement roof with copper. To stay true to the building's historic design and because of its durability and longevity, copper was selected as the appropriate replacement material. Restoration of the roof included the removal and recycling of 30,000 square feet of copper. Gypsum plank decking was replaced with steel decking, and 23,000 square feet of 20-ounce standing-seam roof panels were installed on all four wings of the building. The 3,300 linear feet of gutters were lined with 32-ounce flat-seamed copper that connected into the existing cast iron internal rain conductors. The wide-stone pediments, which had been the source of water infiltration and damage to the stone cornice, were covered with a flat-seam system, similar to the covered horizontal parapets, which was then painted white to match the painted stone facades.
Custom copper roof hatches were added for access to the building's attics. Technical detailed copper work included inside corner expansion joints, as well as expansion joints at 40 chimneys, connections to existing parapet flashing, fall-arrest system flashing, and smaller than standard pan sizes for the standing-seam roofing. All restoration work, by Tradesman Group Inc., was conducted while the building remained open to park visitors, and the park offices remained fully operational.
Architectural Category: Standing Seam Roofs and Walls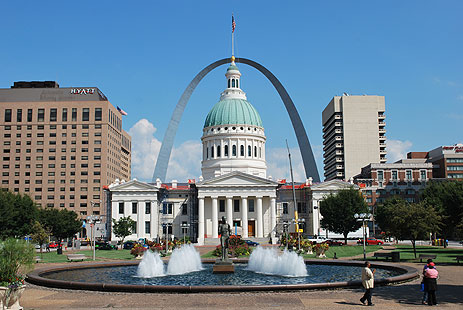 Photo Credit: Quinn Evans Architects - Ann K Dilcher
Photo Credit: Quinn Evans Architects - Ann K Dilcher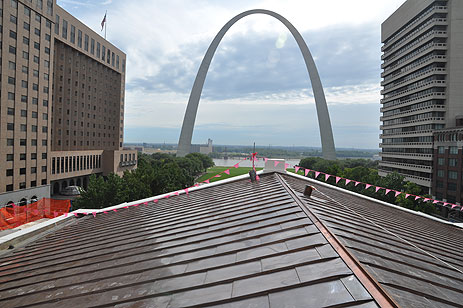 Photo Credit: Quinn Evans Architects - Ann K Dilcher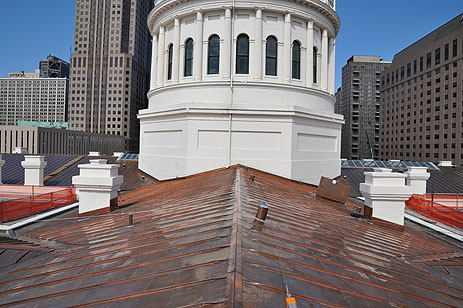 Photo Credit: Quinn Evans Architects - Ann K Dilcher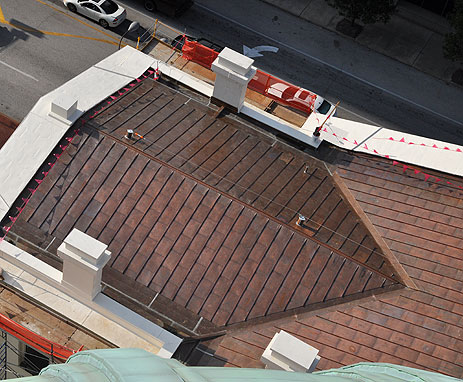 Photo Credit: Quinn Evans Architects - Ann K Dilcher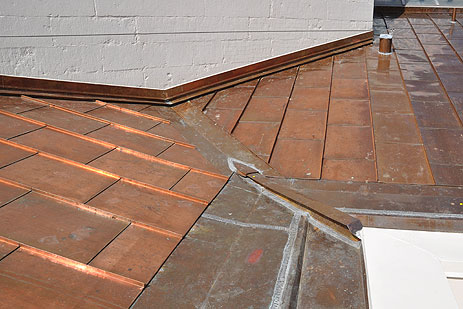 Photo Credit: Quinn Evans Architects - Ann K Dilcher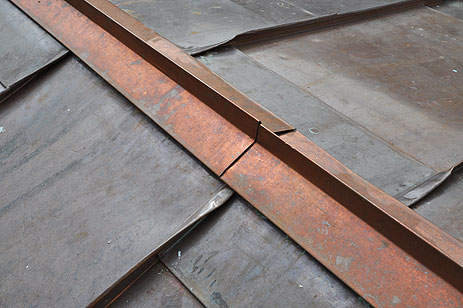 Photo Credit: Quinn Evans Architects - Ann K Dilcher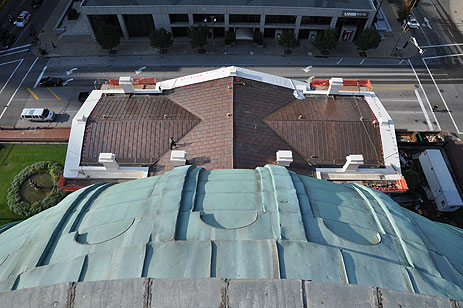 Photo Credit: Quinn Evans Architects - Ann K Dilcher