Hubertus, Wisconsin
Ornamental Applications
Architect
Duncan G. Stroik Architect, LLC
South Bend, Indiana
In the aftermath of a previous building renovation that did not address the failing wood entry doors to the Basilica of the National Shrine of Mary, Father Don Brick contacted Duncan G. Stroik Architect, LLC in 2012 to design new bronze entry doors appropriate to the shrine that would last one hundred years or longer. Completed in 1931, the National Shrine receives 300,000 visitors from around the world every year.
From the onset of the design process, the architectural firm collaborated with American-born sculptor Cody Swanson to create figurative relief sculptures and coat of arms for the doors. Full-size clay mock-ups of the iconography were used to create silicone shells for the reliefs. The shells, or negative casts, were sent to Louis Hoffmann Company, who fabricated the stiles and rails of the bronze doors for casting. The contractor recommended sand casting the bronze relief panels, however the sculpted relief work proved too detailed and complex, and the desired clean and smooth finish was not featured in the sand cast panels. Under a tight deadline, all of the relief panels were re-cast using the lost wax method. Swanson was flown in to supervise and assist in production and to complete surface tooling and finishing.
The four panels feature reliefs of Saint Teresa of Ávila, The Annunciation with Gabriel the Archangel and Our Lady, and Saint John of the Cross. Sculpted panels depicting the coat of arms for Carmelite and Pope Benedict XVI are also on the central doors. The central pair of bronze entry doors is eight feet tall and the two side doors are seven feet tall. Custom bronze spiral door pulls and bronze roundels adorn the wire-brushed door stiles and rails. Tube steel was concealed behind the door jambs to help support the 1,500-pound weight of both doors. Both of the smaller side doors weigh 900 pounds. Each door is equipped with a locking mechanism, interior push bar, hold opener/closer, and a concealed floor mounted pivot. Over time, the climate in Wisconsin will naturally give the bronze more of a brown hue. Prior to the dedication, the doors were waxed three times to slow the natural aging process of the exposed bronze. The doors were dedicated by Archbishop Jerome E. Listecki of Milwaukee on May 25th, 2013.
Architectural Categories: Interiors, Exotic or Unusual Applications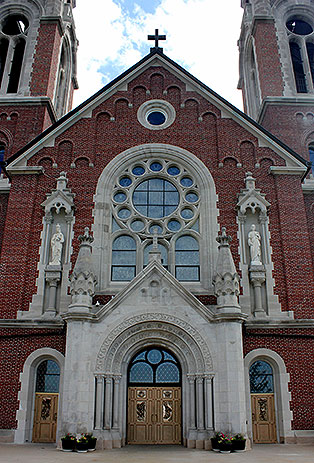 Photo Credit: Duncan Stroik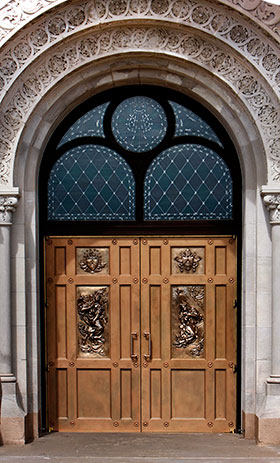 Photo Credit: Duncan Stroik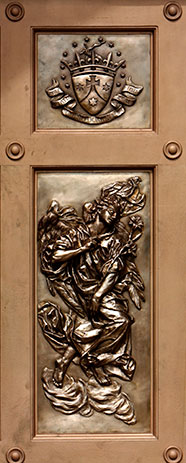 Photo Credit: Cody Swanson

Photo Credit: Cody Swanson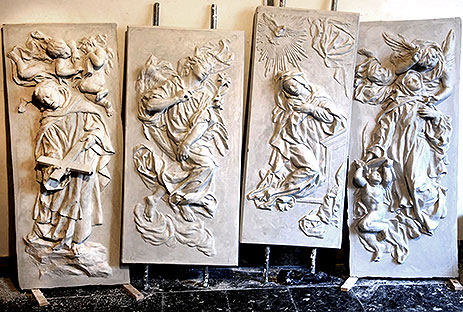 Photo Credit: Duncan Stroik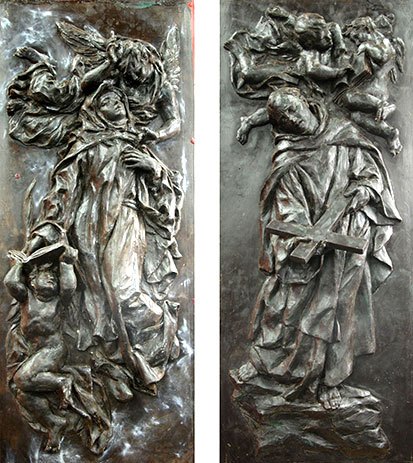 Photo Credit: Duncan Stroik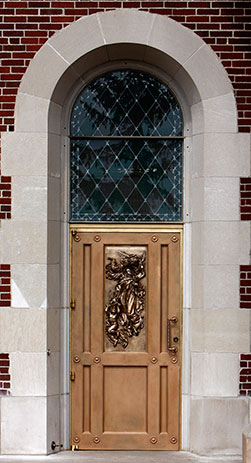 Photo Credit: Louis Hoffmann Company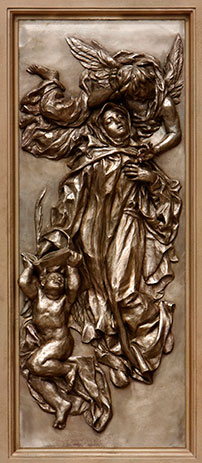 Photo Credit: Louis Hoffmann Company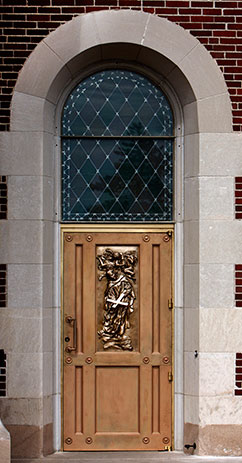 Photo Credit: Louis Hoffmann Company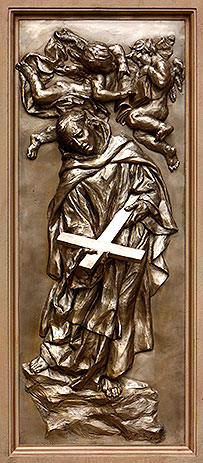 Photo Credit: Louis Hoffmann Company