Coastal Maine
New Construction
Architect
Richard Renner | Architects
Portland, Maine
The decision to use copper extensively on the Coastal Cohousing Community project was a carefully considered one, as low maintenance and long durability were high on the owners' list of priorities. The complex houses individual units connected internally to a commons, along with a separate guesthouse for family and friends, preserving individual privacy while encouraging interaction. In total, this project utilized 16,450 pounds of 16 ounce copper.  The 953 sheets of copper—a combination of two-by-eight feet and three-by-eight feet—were used on roofs, chimneys, parapets, soffits, rakes, window flashings, scuppers and downspouts. Approximately 90-95 percent of the copper was produced using recycled copper.  The copper's unique patina adds subtle variety and visual warmth to the exterior of this community.
The super-insulated building envelope (walls at R-45 and roof at R-65) has very high levels of air tightness (tested with a fog machine before exterior and interior finishes were installed) and utilizes high-performance triple-glazed fiberglass windows. A single wood-pellet boiler provides heat and hot water to the entire development, including the guesthouse. Solar shading devices and deep copper eaves reduce heat gain. Low maintenance and locally available cedar shingles clad the walls; low VOC materials are used throughout the interior, as are water-efficient plumbing fixtures and energy-efficient appliances.
The ease of adapting copper to a variety of conditions and configurations allowed the architects to design all eaves, rakes, dormers and chimneys entirely in copper. This was both performance-enhancing and an aesthetic benefit. The result is a contemporary interpretation of the classic New England building form. The chimneys are in fact, not traditional chimneys; instead of extracting wood smoke, they gather the mechanical intakes and exhausts, reducing roof penetrations while defining individual units. The copper roofs support 25kW of photovoltaic panels on south faces, with provision for additional panels to meet demand. The double-locked standing seam copper roofs were all custom bent, either in the roofing contractor's shop or in the site shop. Each panel had a custom-cut and bent taper so that they could fit together precisely without causing buckles.  Every section of roof was also laid out symmetrically: top to bottom and left to right.
Architectural Category: Standing Seam Roofs and Walls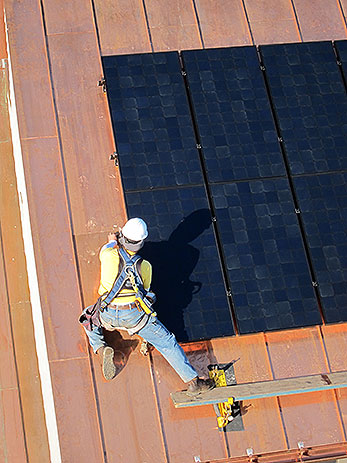 Photo Credit: Richard Renner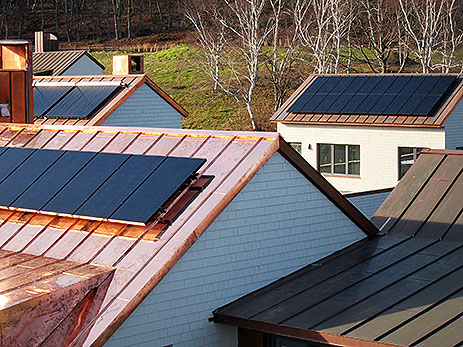 Photo Credit: Richard Renner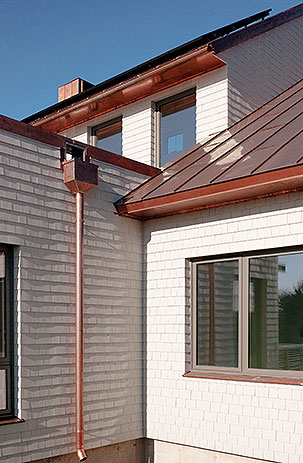 Photo Credit: Richard Renner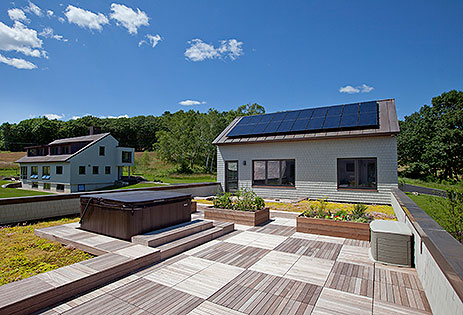 Photo Credit: Peter Vanderwarker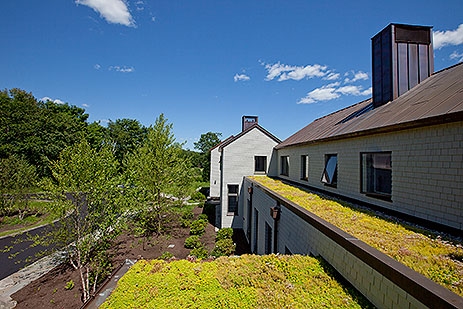 Photo Credit: Peter Vanderwarker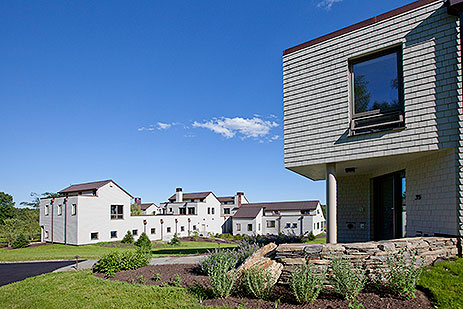 Photo Credit: Peter Vanderwarker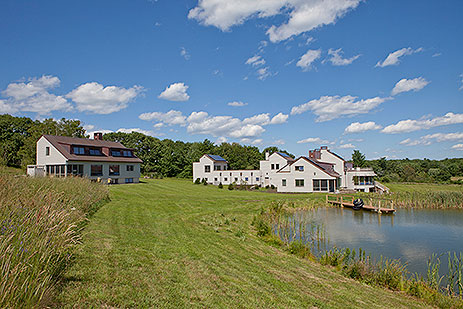 Photo Credit: Peter Vanderwarker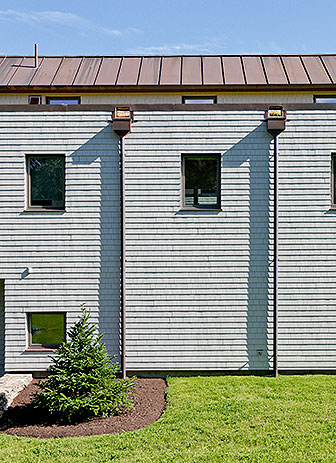 Photo Credit: Peter Vanderwarker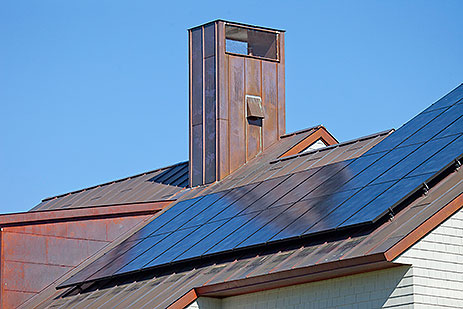 Photo Credit: Peter Vanderwarker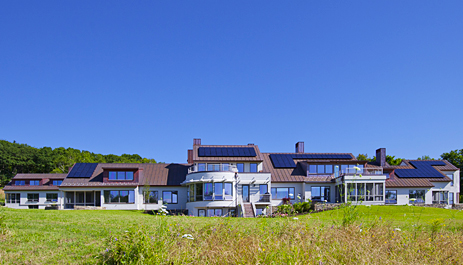 Photo Credit: Peter Vanderwarker