July 16, 2002
FOR IMMEDIATE RELEASE
NEW YORK, NY— Barbecuing outdoors on a gas grill used to be easy. But that was before new safety rules regulating the use of refillable gas grill tanks rolled across the summertime landscape like rain on a picnic.
Many municipalities now prohibit refilling portable gas grill canisters within urban limits, restrict transporting canisters through tunnels and across bridges, limit the number of local refilling stations, and require new, solid brass safety devices on canisters to prevent mishaps when refilling the containers. "For many people, these inconveniences limit the enjoyment and ease-of-use of gas barbecues," explains Andrew Kireta, Jr., national program manager for the Copper Development Association.
" Fortunately, there's a quick, convenient solution that many homeowners have already discovered," says Kireta. "Use flexible copper tubing and install a permanent fuel line from a natural or propane gas source to your barbecue grill. You'll never have to struggle with propane tanks again, and you certainly won't have to worry about running out of gas while you're grilling your steaks."
According to the Hearth, Patio and Barbecue Association (HPBA), natural-gas barbecue use is on the rise. More than 70 percent of natural grill owners enjoy outdoor cooking in all weather, refining their barbecue prowess throughout the year. A copper gas line hookup, eliminating any clumsy tanks to handle, can make it even more convenient and let you join this growing trend.
Many homes already have a gas supply. Adding an additional line for a barbecue is a simple retrofit operation, especially when using annealed copper tube, which bends easily and is available in 50- and 100-foot coils for fast installation.
When installing a copper gas line on a deck or a patio, the gas line typically terminates at a quick-connect coupling on the outside wall, which allows the homeowner to quickly and easily move the barbecue for cleaning or storage, The outlet contains a built-in safety feature that prevents gas flow if the grill is not properly connected. These quick-connect outlets are available in a variety of decorator cover boxes to complement or enhance your outdoor décor.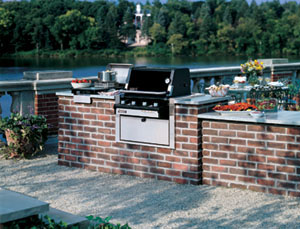 Flexible copper tubing can be used to install a permanent fuel line to any barbecue, ranging from a high-end model installed into a patio island, like the one pictured here, to a more common canister-type model which can be converted easily to plug into a gas convenience outlet. Either way, you won't have to bother refilling or replacing portable tanks.Photo courtesy of the Hearth, Patio and Barbecue Association (HPBA).
Installing a permanent copper fuel line to your outdoor grill is also a great way to save money. Where available, natural gas is less than half the cost of propane on a per-hour of use comparison. A permanent hookup also saves you the inconvenience of refilling and replacing awkward and expensive portable tanks. And most canister-type barbecues can be converted at a reasonable cost.
###