America's future depends on copper, and it meets every component of the U.S. Geological Survey's definition of a Critical Mineral.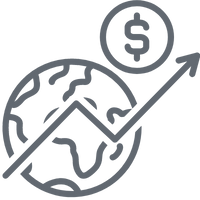 Copper is essential to economic and national security.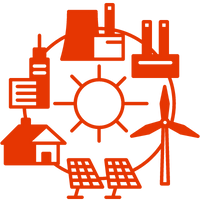 Copper plays a key role in energy technology, defense, consumer electronics, and other applications.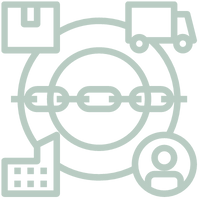 Copper's supply chain is vulnerable to disruption.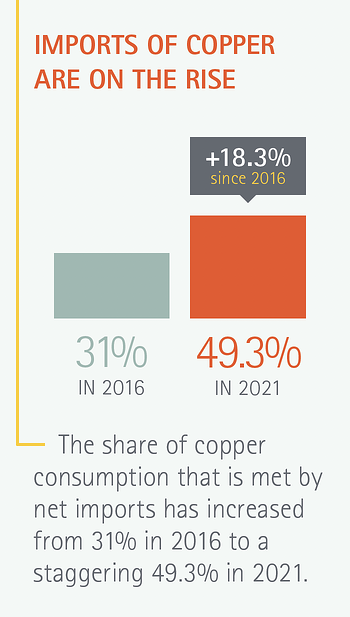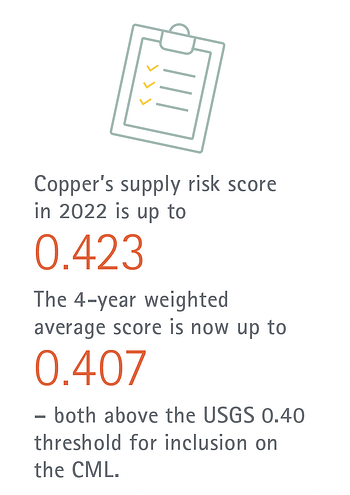 Copper and the Critical Minerals List
The U.S. Critical Minerals List, originally developed by executive order in 2018 and codified by the Energy Act of 2020, contains minerals deemed essential to the economic or national security of the U.S. and that have a supply chain vulnerable to disruption. The list was created to increase activity at all levels of the supply chain, including exploration, mining, concentration, separation, alloying, recycling, and reprocessing minerals. Since its inception, the list has become the shorthand way to refer to important minerals and is cited in dozens of legislative proposals intended to support those minerals through tax credits, government purchases, and permitting support.
Despite its clear criticality and dramatic uptick in import penetration from adversarial countries, copper was not included on the 2022 U.S. Critical Minerals List.
Because U.S. Geological Survey (USGS) data was considerably out of date upon the release of the 2022 Critical Minerals List, and the world has changed dramatically since then, the Copper Development Association hired a consultant to update the copper supply risk score with the most recently available data through the first half of 2022. With the new data, copper's supply risk score in 2022 is up to 0.423 and the four-year weighted average score is now up to 0.407 – both above the USGS 0.40 threshold for inclusion on the Critical Minerals List.
Given the significant change in the supply risk to copper, which shows no signs of slowing down, the Secretary of Interior should exercise the authority given to her by statute to officially add copper to the Critical Minerals List immediately.
Why Copper is a Critical Mineral
Despite copper's essential role in the economy and in clean energy, copper is not on the U.S. Critical Minerals List.
Here's what makes copper critical, and why it should be an officially designated critical mineral.
View Now
CDA's Rebuttal to Misleading Statements from USGS
A broad coalition of public policy and industry leaders in Washington and beyond agree copper is critical!
Senate
Senator
Kyrsten Sinema (I- AZ)
Senator
Mike Braun (R-IN)
Senator
Mark Kelly (D-AZ)
Senator
Joe Manchin (D-WV)
Senator
Mitt Romney (R-UT)
Senator
Raphael Warnock (D-GA)
These additional Senators also believe copper should be an official Critical Mineral
Senator
Tammy Duckworth (D-IL)
Governors
Doug Burgum
State of North Dakota
Jim Justice
State of West Virginia
Bill Lee
State of Tennessee
Mark Gordon
State of Wyoming
Tate Reeves
State of Mississippi
Brian P. Kemp
State of Georgia
Brad Little
State of Idaho
Spencer Cox
State of Utah
Mike Dunleavy
State of Alaska
Joe Lombardo
State of Nevada
Associations & Unions
American Foundry Society (AFS)
American Supply Association
Arizona Mining Association
Business Council for Sustainable Energy (BCSE)
Copper & Brass Supply Chain Association (CBSCA)
Ductile Iron Pipe Research Association
Electric School Bus Coalition (ESBC)
Greater Boston Plumbing Contractors Association
The International Association of Plumbing and Mechanical Officials (The IAPMO Group)
International Code Council (ICC)
National Electrical Manufactures Association (NEMA)
National Mining Association (NMA)
New Mexico Mining Association (NMMA)
Non-Ferrous Founders' Society (NFFS)
North American Metals Council (NAMC)
Plumbing-Heating-Cooling Contractors-National Association
Plumbing Manufacturers International
Precision Machined Products Association
Precision Metalforming Association
United Association of Plumbers and Pipefitters of the United States and Canada
Zero Emission Transportation Association (ZETA)
Industry
Action Plumbing and Heating
Alconex Specialty Products, Inc.
Arizona Sonoran Copper Company
Cambridge-Lee Industries, LLC
Cocalico Plumbing & Heating
Greenwood Fabricating & Plating
Kenmode Tool and Engineering
Midwest Transportation, LLC
Morgan Bronze Products, Inc.
New England Trading Global
Prime Materials Recovery, Inc.
Revere Copper Products, Inc.
Stanley Spring & Stamping Corp.
Titan International, Inc.
Take Action
Given the significant change in the supply risk to copper, which shows no signs of slowing down, we need to act immediately to enable the copper industry to provide the essential inputs that copper provides to our national defense and economic security.
Download our toolkit, and urge the Secretary of Interior to immediately add copper to the Critical Minerals List!