Your builder knows...
when it comes to quality, copper is the answer.
What do you mean by "all-copper" wiring?
Simply stated, "all-copper" means that the electrical service inside your home is carried exclusively over copper wiring. This includes the copper conductors used in your circuit breaker panel, in branch circuit wiring (to outlets, switches, lighting fixtures and the like), and in dedicated branches serving heavy-load appliances (such as ranges, ovens, clothes dryers and air conditioners).
Isn't all home wiring copper?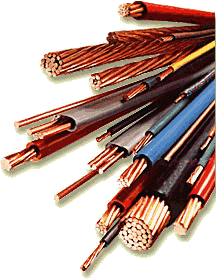 Copper has always been the standard for home wiring. However, to save money in the late 1960s and early 1970s, some builders wired new homes with lower-cost aluminum. Reliability and safety problems-well publicized at the time-motivated builders and electrical contractors to switch back to all-copper systems. In fact, these same problems prompted many local building codes to forbid the use of aluminum. Today, virtually all basic wiring for lights, outlets and switches utilizes copper.
Should I be concerned about the wiring in the new homes I'm looking at?
Not about homes from the builder who provided you with this brochure. He knows there is no substitute for the reliability and safety of all-copper wiring.
What makes copper the ideal wiring material?
Copper is the best conductor of electricity known (except for solid silver). That's why it's used for practically every electrical application you can think of-from house wiring to personal computers and power generators. In addition, copper's inherent characteristics deliver on its reliability and safety advantages where it counts-at the points of connection.
Can I expect long-term, trouble-free performance with all-copper wiring?
Yes. Many American homes have copper wiring that's been in service for generations. Copper quality, combined with modern wire insulation and proper installation techniques, not only offers lasting value over the life of your new home, but also gives you peace of mind. All-copper wiring gives you trouble-free performance when you're home and worry-free performance when you're away.
Take a moment to find out more about the material in one of your home's most important systems. You'll see that quality is the reason your builder chose all-copper wiring.