October 2005
Time for a Checkup!
Homes age just as people do. Sooner or later, both will require checkups. And, as old age sets in, major repairs are often needed.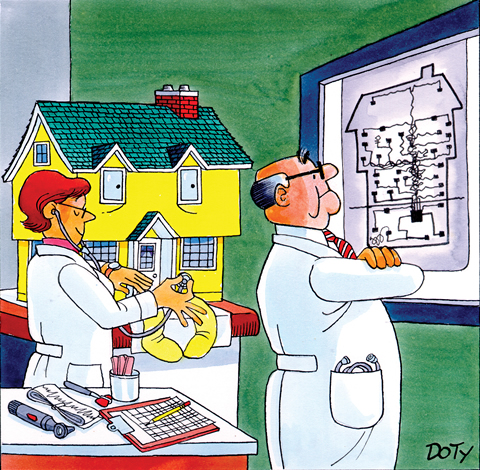 The average age of the housing stock in the United States reflects the aging of its population. That's not surprising, considering that a building boom accompanied the baby boom of the 1950s and 1960s to accommodate millions of new families and their children.
As the baby boomers reach late maturity and old age, so goes the housing.
Old age for a home is typically between 50 and 60 years, although many very old homes are still around, too. Across the country, renovations are increasing on this mature stock. Unfortunately, boomer generation homes may be lagging far behind the present safety standards for electrical wiring.
According to David Brender, national program manager for the Copper Development Association, "Next to the installation of smoke alarms, one of the most effective ways to improve the safety of these older homes is to upgrade the wiring."
The Ever-changing Code
The National Electrical Code (NEC) is the definitive guide to electrical wiring safety in most locales - but it is a dynamic document. The electrical professionals who write the Code are continually evaluating safer wiring practices. New technologies have been introduced over the years, such as ground-fault circuit interrupters (GFCIs) and arc-fault circuit interrupters (AFCIs). Additionally, patterns of electrical usage are changing, necessitating important changes in home wiring.
The Electrical Section of the National Fire Protection Association (NFPA) revises the Code every three years. The current edition is dated 2005, and the next revision cycle is for the 2008 edition. Consider that the Code may have been through 10 or more revision cycles since the electrical wiring was first installed in your older home!
Many old homes have been neglected. Probably, no electrical inspections have been performed - and little has been done to bring the wiring up to the current Code. To make matters worse, if wiring work was done, there's a chance that a nonprofessional improperly installed the wiring.
Wiring Then and Now
For older homes, inadequate and/or aging wiring is probably the most serious concern. Homes built in the 1950s simply do not have enough branch circuits or outlets to accommodate the increased electrical consumption of today's homeowners. Home computers, home offices, home theaters and home electronics - and a multitude of electrical appliances - all add up to a much higher usage of electricity. The average electrical consumption per household has increased more than fourfold since the 1950s.
An under-wired home is not necessarily a safety hazard in itself, but blown fuses, tripped breakers and overuse of extension cords are signs that your home needs a professional checkup.
Fatter 12-gauge wiring is often better than thinner 14-gauge wiring for branch circuits. Upsized wiring doesn't cost much more and provides better performance; for a given length of wire, heavier wires are less susceptible to voltage drops than the thinner wires, because electrical resistance is less for the former than the latter. Be sure your electrician doesn't skimp on wire gauge in the branch circuits and ensures you have properly sized circuit breakers or fuses when you upgrade the wiring in your home. Also, today's electrical code calls for several separate branch circuits to kitchens and bathrooms for new construction.
More Reasons to Upgrade
Older homes commonly have architectural details rarely seen in modern homes. What's more, an old home may have sentimental value. In many cases, these homes can be refurbished into high-quality living spaces. And, one of the key renovations to ensure safety and increase your home's livability and resale value is an upgrade of the electrical wiring. While you are at it, you can also install a modern communications wiring system. The best (and least expensive) time to upgrade the wiring, whether communications or electrical power, is while the house is being renovated.
For more information about residential electrical wiring, visit CDA's Building Wire section.