May 2002
Happiness is never having to pay another energy bill - which is the goal of an innovative homebuilding demonstration project currently underway in the Atlanta suburbs.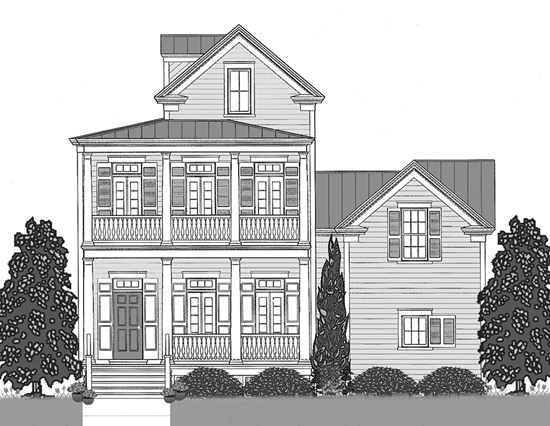 Combining resource-efficient construction techniques, materials and products, Zero-Energy Homes are designed to prove just how energy self-sufficient a home can be. Roof-mounted solar panels provide most of the electricity as well as hot water. Copper tubing buried in the yard recirculates refrigerant liquid to a geothermal heat pump, using the constant temperature of the earth to further reduce home water- and space-heating requirements. Structural insulated panels and common-sense architectural design add to the overall efficiency of the buildings.
The project is being developed by a consortium that includes the Department of Energy's Building America program, media mogul Ted Turner's kid-friendly "Captain Planet Foundation," the American Lung Association, a long list of product manufacturers and building-industry associations, and local Georgia builders.
A first, smaller house, dubbed the Zero-Energy Cottage, debuted at the International Home Builders Show in February, then was dismantled and trucked to Washington, D.C., for display at the National Park Service's first Sustainability Fair in May. A second, larger and even more ambitious Zero-Energy Home is now nearing completion. According to the developers, the purpose of the homes is to show how environmental and energy-efficient "sustainable" practices can be put to good use by builders today. Both homes are said to be up to 90 percent more energy-efficient than an average house.
One participating sponsor, the Copper Development Association (CDA), provided all of the copper tubing for the hot- and cold-water plumbing, for dual solar water-heating and solar photovoltaic electric systems, and for geothermal direct-exchange heat pumps that heat and cool the homes.
According to CDA spokesman Ken Geremia, the association was asked to support the project because copper materials are inherently energy efficient and environmentally smart. "Copper is the most recycled and recyclable building material you can use," says Geremia, "so sustainability demonstration projects like this are a perfect fit for us. The fact that this particular project is being done for such a good cause, on behalf of both the Building America program and the Captain Planet Foundation, is a plus as far as CDA is concerned."
In tune with the project's earth-friendly goals, the Zero-Energy Homes take full advantage of copper's excellent heat-transfer properties to offset typical home energy costs. "Far and away, copper is the best option for all kinds of heat-exchange systems, especially heat pumps," he adds.
Copper is also used in all the home's electric wiring and in its sophisticated structured wiring communications system, which will allow occupants to network home computers, distribute audio and video throughout and install home-automation features. The project's developers expect to complete the second Zero-Energy Home by the fall, when it will open to the public. Both homes are to be auctioned, with all proceeds to benefit the Captain Planet Foundation.