That was then...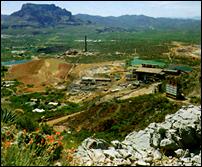 The Superior Mine was an underground mining operation near Superior, Arizona. Approximately 1,500 tonnes of ore per day were hoisted from the mine and then carried by underground railroad to the concentrator in the town of Superior.
The mine was a small producer of high grade ore and in continuous operation from 1912 to 1982, when it was closed due to low productivity and depressed copper prices. The operation was reopened in late 1990 and ore reserves were depleted in mid-1996.
A smelter operated from 1924 until 1970, when smelting operations were consolidated at San Manuel, Arizona.
This is now...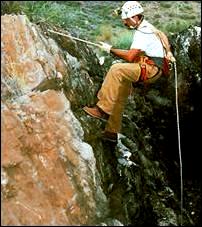 Superior has an exciting program to address the many issues that surround the closure of this landmark mining facility. And we are making Superior "bat friendly." The numerous historic mine openings which dot the landscape were viewed by some as a big safety problem. However, they have greater importance as a wildlife habitat.
Abandoned mines (shafts, tunnels and adits) are used by a number of species of birds, rodents, reptiles and other wildlife. Dramatic declines in US bat populations have occurred in recent years. Many bat species are already listed by the US Government as threatened or endangered.
Due to the unique biology of bats, a single cave can be critical to the survival of the species.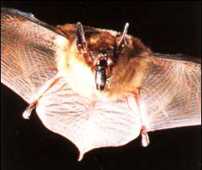 Bats eat nighttime flying insects and play a key role in ecosystems. Did you know that in the desert Southwest, many cactus and other plant species are dependent on bats for pollination? The ecological and economic value of bats is just beginning to be understood.
BHP Copper participated in a workshop in November 1995, to educate industry professionals on bat issues in Arizona and New Mexico. Out of that meeting Dan Taylor, North American Bats and Mines Project Director for Bat Conservation International (BCI) and the company started a bat conservation program for Superiors upcoming closure.
What's out there?
Biologists Dan Taylor and Sheryl Ducummon from BCI, with Randy Marsing, Group Leader for BHP Copper, Superior Operations, conducted a bat survey on approximately 200 old mine workings, evaluated them for bat use and habitat potential, recommended sites suitable for protection, and provided technical assistance for the design and construction of bat compatible closures.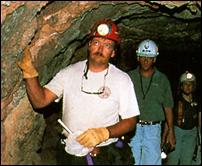 Survey techniques included daytime internal visits of mines safe enough to enter and nighttime external surveys of unsafe and/or complex mine workings. Daytime surveys consisted of visual searches for bats or signs of bats. External surveys included counting emerging bats with night vision scopes, recording high frequency bat vocalization on acoustic bat detectors, and humanely capturing and observing emerging bats with nets or traps.
A variety of species of bats were detected, including:
Western big-eared bat
(Corynorhinus townsendii)
Big Brown Bat
(Eptesicus fuscus)
Western pipistrelle
(Pipistrellus hesperus)
Fringed myotis
(Myotis thysanodes)
Twenty-three percent of the inactive workings at the Superior Operation had "good to excellent potential" as bat habitat. BCI recommended 13 sites for closure with bat compatible methods, and released approximately 85 sites for closure in the most expedient manner.
Bat partners
An extraordinary partnership with the Bat Conservation International has resulted and BHP has learned how to institute a more sensitive approach to mine closure to benefit wildlife, while protecting human safety.
The partnership between BHP Copper and BCI promotes conservation and enhancement of bat habitats on mining properties. BHP Copper has put lots of resources into this project, including a comprehensive inventory of shafts, open cuts and structures on the property. It also involves the cleanup of sites and removal of debris, installation of fencing and signs, installation of bat gates, filling or complete closure of openings, re-contouring and revegetation of disturbed areas, and closure of access to the sites. To date, Randy Marsing and his team have constructed a total of five bat gates and will continue to reclaim disturbed areas and construct bat gates. The Copper may be gone, but the benefits to wildlife will continue for a long, long time!
Attribution
This article is reprinted with permission from the publication, On CU,January – March, 1997, Vol. 1, No. 2.
On CU is the quarterly publication of BHP Copper, a business group of The Broken Hill Proprietary Corp., Ltd.
© 1997 BHP Copper


BHP Copper
550 California Street
San Francisco,
California 94104