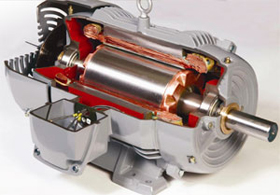 The Washington State University (WSU) Energy Program offers motor systems management workshops that can help plant engineers, electricians, and maintenance staff as well as facility operators to optimize their motor system effectiveness and efficiency. This includes presentations and a demonstration of power quality monitoring, data logging, motor control, and power factor correction as well as hands-on training of motor selection and systems analysis software tool.
The basic workshop is a one-day event covering the following topics:
Motor Basics
Motor System Management
Electrical Distributions System Tune-Up
Motor Maintenance and Repair Issues
Electronic Variable Speed Drives
MotorMaster+
Past Workshops
Over four dozen motor systems workshops have been performed in 28 states and Canada. Previous hosts and sponsors include the U.S. Department of Energy's Office of Industrial Technologies, the Copper Development Association, Applied Power Technology, the U.S. Postal Service, The Boeing Company, and many electric utilities, state energy agencies, and public utility commissions.
Flexibility
WSU can adapt the workshop to your situation and learning objectives. Here is the usual procedure and some of the variations we have done in the past.
Basic Workshop: This is usually runs from 8:30 AM to 4:00 PM with one instructor. Under the typical agreement, arrangements are as follows: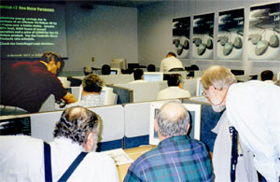 WSU provides a qualified instructor, handout materials, and evaluation forms for all attendees. WSU will also provide a laptop computer for displaying visuals, demonstration equipment, and test instruments. Handouts include copies of all visual aids, MotorMaster+ software, and related books or technical reference materials. The software and books are provided to WSU, or directly to the host, by U.S. DOE's Office of Industrial Technologies.
The host provides a training room with a podium or table(s) with sufficient space for a laptop computer, computer projector, and some hand-held test instruments. The host provides the screen and computer projector with cables; however, if one is not available, the trainer(s) can bring a portable projector. A flip chart is also desirable. When there is a hands-on computer-training segment of the class, the host provides a computer lab with at least one computer for every two attendees. The host provides or arranges for lunch and refreshments at breaks. The host advertises the workshop to their staff, clients, customers, and local service providers. However, WSU can support this effort with promotional text and possibly contacts in the area.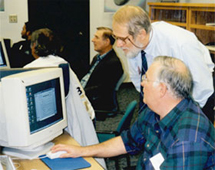 Software focus: For clients primarily interested in making full use of the inventory tracking and motor systems management capability of MotorMaster+ we offer a full day, hands-on, interactive MotorMaster+ training. This works best in a computer lab with two persons per computer.
Work with a local presenter: Sometimes the host has a local presenter to discuss utility programs or other issues at lunch time or another time segment. We coordinate with the presenter to avoid redundancy and to ensure a smooth segue.
Enhanced demonstration: Normally we display test instruments and demonstrate them on a small plug-in single phase blower in the classroom. For host clients with three-phase motors on site, we can conduct data acquisition demonstrations on working three-phase motors.
Two-day training: For clients interested in broad motor systems issues of application, operation, maintenance and repair, plus hands-on MotorMaster+ training, we recommend a two-day, two-instructor training schedule.
CEU credits: Upon advanced request, continuing education credits from WSU are available to participants.
For Additional Information:
Contact Gil McCoy at Washington State University by email or by calling (360) 956-2086.
Trainer Qualifications
Both trainers are co-authors of the US Department of Energy (U.S. DOE) motor systems official management training, instructional publications, and are instructors for the U.S. DOE sponsored motor systems management trainings.
Gil McCoy, P.E. - Gil is the lead engineer for design of energy-related product selection software, including MotorMaster+, and is the lead technical support for the Department of Energy's OIT Clearinghouse. He is an accomplished trainer, with 30 years of experience and scores of publications to his credit.

Gil previously worked as an engineer at Bechtel Power Corp., Portland General Electric, the U.S. Army's Frankford Arsenal, and Lawrence Livermore Laboratory. Gil has a BS in Metallurgical Engineering from the University of Washington and an MS in Engineering from the University of California at Berkeley.

Johnny Douglass, P.E. - Johnny is responsible for research and training in industrial technologies and technical support in software development. He is a nationally recognized expert in electric motor driven systems, especially efficiency testing and repair. He designs and implements field data acquisition systems. He also performs workshops on motor systems management, assessments of industrial plants, and statistical analysis.

Johnny has previously worked as an Engineer at the Washington State Energy Office, the Energy Facility Site Evaluation Council, the University of Washington Social Management of Technology Program, the General Electric Company, and the Boeing Company. Johnny has a BS in Mechanical Engineering from Clemson University and an MS in Interdisciplinary Engineering from the University of Washington. Johnny is a senior member of IEEE.