Copper Sprinklers Rise to Meet Phoenix's Need
Rising 21 stories out of the desert soil, a scant few blocks from the Arizona state capitol, is the new Phoenix Municipal Building. It will be city hall for some 2.5 million residents of the Copper State. The graceful concrete structure is not the only high-rise in town, nor is it the highest, but it is the first of Phoenix's major buildings to have a copper automatic fire sprinkler system.
Traditionally, most such systems have had standard brass sprinkler heads fed by black steel pipe because of the pipe's ready availability and low material cost. But steel pipe usually must be fabricated off site in predetermined lengths, lugged to the building and then assembled much like a 'Tinker-Toy" project, according to Gary Beyschau, president of Aero Automatic Sprinkler, Inc., head-quartered in Phoenix.
Beyschau has been designing automatic fire sprinkler systems for more than two decades. His company has been installing systems throughout the southwestern U.S. for nearly ten years. Beyshau says many contractors have come to recognize that copper systems are the most profitable and most economic way to go for residential buildings ranging from single-family to multistory hotel and apartment buildings. "But when it comes to office buildings and most other commercial and institutional buildings, copper tube has too often been assumed to be unnecessarily expensive," according to Beyschau.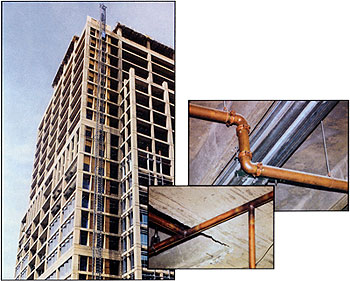 "The Phoenix city hall building has opened my mind to what can be an extremely cost-effective solution for many of my customers. It may not be the best solution for every situation - I don't think I would use it in a parking garage or a warehouse, for example," Beyschau says. "But where you've got many required bends or irregular patterns, or if you're tapping off the domestic water supply, then copper makes a lot of sense. I can certainly attest to the viability and advantages of using copper tube in sprinkler systems."
The Phoenix Municipal Building will use some 26 miles of copper tube (about 32 tons) to feed 3,572 sprinkler heads. A black pipe approach would have required the assembly of more than double that tonnage.
Beyschau points out that not all of his work crews were familiar with copper brazing techniques when the job started. He brought in a CDA instructional team that put on three training sessions. "The learning curve was surprisingly short for the crews. However, I think it will take me another project or two to feel I've really achieved the maximum potential I can realize from using copper tube. Each week I discover more subtle ways that copper helps keep down job costs.
"Prefabrication of right-angle bends during normal downtime can save the installation of two fittings when you're back on the job site. That prefab can save a cap fitting and Tee for each head drop, too. A mechanical branching system can also reduce fitting requirements. I can even order custom lengths of copper tube that will match repeated runs on the layout; that saves even more on labor," Beyschau says.
One of Aero's top fitters singlehandedly installed 96 sprinkler heads and more than a quarter-mile of copper tube in just 60 hours. "When my entire crew gets that proficient at brazing, we'll be able to do more jobs in the same amount of time. That's good for me and our customers." Beyschau said the city hall project had many revisions issued after the floors were roughed-in. "Our performance in revising these floors was far better than we anticipated. The workabili- ty of copper allowed us to achieve a job performance which would have been unobtainable with a steel piping system."
Beyschau claims that copper tube is ideal for retrofit work, too. The owners of a major resort hotel were so impressed with Aero's performance and minimal interruption of their operations that the sprinkler installer has been awarded two more million-dollar contracts for their resort properties. "I expect we'll get many more jobs once other building owners see the kind of work we're doing."

Aero Automatic Sprinkler: 602/272-3237
Also in this Issue:
Copper Sprinklers Rise to Meet Phoenix's Need
Archives:
2010   |   2009   |   2008   |   2007   |   2006   |   2005   |   2004   |   2003   |   2002   |   2001   |   2000   |   1999   |   1998   |   1997   |   1996   |   1995   |   1994   |   1993   |   1992   |   1991