For Fast, Even Cooking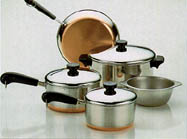 Chefs have long known the advantages of copper cookware: high heat transfer (the highest of any material used in cooking) plus even heating (no hot spots).
Today in the United States, if a home cook wants to enjoy the advantages of copper, he or she can obtain it from only one American manufacturer - Coming Consumer Products Company. Famed for glassware, Corning now makes Revere Ware.
Copper-bottom ware was introduced in 1939 when metallurgists with Revere Copper and Brass developed a new way of electroplating a half millimeter of copper to the bottoms of utensils made with stainless steel. This cookware carries a 25-year limited warranty.
Later, a line of premium cookware was created with a disk of 1.5-mm copper brazed to 1-mm thick surgical-grade stainless steel. This mirror-finish "Pro Line" cookware from Coming carries a lifetime limited warranty.
Corning/Revere Consumer Information Center: 800/999-3436
The Best is Yet to Come
It is well known that use of copper for the rotors in induction motors would result in significant improvements in motor energy efficiency. However, motor rotors are universally die cast with aluminum today because of inadequate die life for the process with copper.
In October of this year, a consortium of partners assembled by the Copper Development Association Inc. began work to develop candidate die materials to use in the fabrication of a motor rotor mold. These high-temperature, thermal shock resistant materials will be tested to ensure their performance for the thousands of casting cycles that would warrant cost-effective production of a copper rotor.
Partners in the two-year project include: ThermoTrex Corporation, Ohio State University, Baldor Motors, ARI (with Dunham-Bush/A.O. Smith) and Magnate Magnatek, Buhler North American and THT Presses.
The project is funded in part by the International Copper Association and a U.S. Department of Energy grant.
Also in this Issue:
Archives:
2010   |   2009   |   2008   |   2007   |   2006   |   2005   |   2004   |   2003   |   2002   |   2001   |   2000   |   1999   |   1998   |   1997   |   1996   |   1995   |   1994   |   1993   |   1992   |   1991