Copper Building Materials Seen by Millions
Millions of TV viewers watched the construction of an upscale home with copper plumbing on "Michael Holigan's Your New House." Each step in the erection of the 16,000-square-foot home was shown in separate episodes of the nationally syndicated program. An early episode of the series focused on the rough-in of the copper plumbing system. Besides supplying all of the tube for the house, the Copper Development Association was on-hand to provide technical assistance to the installation contractor during filming.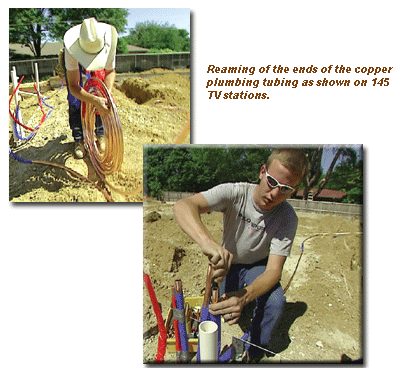 The plumbing was installed by Underwood Plumbing Corporation, Bonham, Texas. Only copper plumbing is installed by this active firm, according to Supervisor Lee Underwood, and they insisted that it be used in this highprofile project. He praised its "durability and ease of installation." Underwood has installed copper plumbing in hundreds of homes built by the contractor, Harold Holigan, Founder and Chairman of the Board of MH2 Technologies, Dallas, Texas.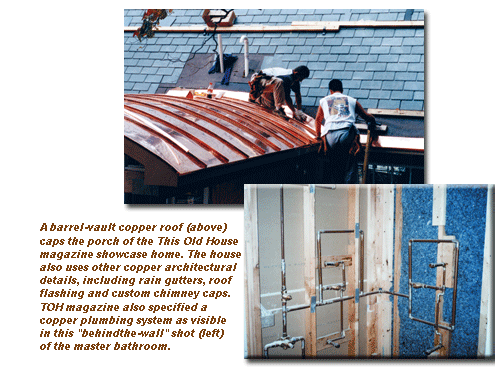 There's lots more copper in the 6-bedroom, 10-bathroom home, according to Tim Dickey, Producer of "Your New House," which airs on 145 stations. The "massive electrical installation" required a lot of RG6 and Category 5 copper telecommunications cable, plus "a huge amount of copper" in the water-cooled heating, air conditioning and ventilation system. This 20-ton HVAC system was supplied by Unico, Inc., St. Louis, Missouri. In addition, the home will have copper gutters.
MH2 Technologies: 972/728-8150
Underwood Plumbing: 903/583-2731
Unico: 800/527-0896
Also in this Issue:
Copper Building Materials Seen by Millions
Archives:
2010   |   2009   |   2008   |   2007   |   2006   |   2005   |   2004   |   2003   |   2002   |   2001   |   2000   |   1999   |   1998   |   1997   |   1996   |   1995   |   1994   |   1993   |   1992   |   1991