Four Decades of Innovation: Issues 61 - 99
---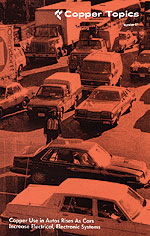 No. 61 - 1987

Domino's Orders Copper

The largest standingseam copper roof in the USA, and perhaps in the world, is installed on the dramatic new headquarters of Domino's Pizza in Ann Arbor, Michigan. Using some 320,000 sq. ft. of copper, the project exceeds the previous record holder, the Mexico City Sports Palace. The office complex is expected to double its size (and its copper roof) within 20 years. When asked why a copper roof was specified, the installer hailed its competitive cost, longevity and resistance to corrosion.
---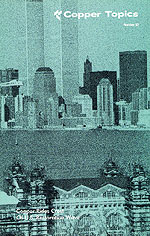 No. 62 - 1987

Sprinkler Training in Brooklyn, NY

An all-copper automatic fire sprinkler system is installed in 90 low-income apartments in eight tenement buildings in Brooklyn through the efforts of a local community group. The project offers farreaching benefits: It helps to protect residents who otherwise could not afford to improve their homes, while it employs 60 high-school dropouts who help with the installation, providing them with income and newfound construction skills.
---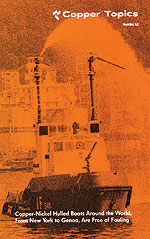 No. 63 - 1988

International Waters Filled With Copper Hulls

A long-term study shows that boats with copper-nickel hulls remain free of marine fouling through many years of use. From shrimp boats in Mexico to fireboats in Italy to motor sailers and luxury yachts in the U.K. and the USA, the results after some 10-20 years of service show their hulls last longer, they run faster than their counterparts, and they don't have to be taken out of service as often. The hull sheathing ranged from 90-10 and 70-30 copper nickel plate to thin copper-nickel foil laminated to fiberglass. The boats sail waters from Italy to the China Seas, Latin America, and the U.S. Atlantic Coast.
---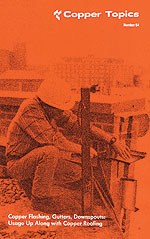 No. 64 - 1988

Copper Flashing on the Rise

Field research indicates that copper is increasingly displacing aluminum in flashing, gutters and downspouts for residential construction. This allows builders to add not only a longer-lasting material, but also greater aesthetic appeal and a higherquality look to the residences they build.
---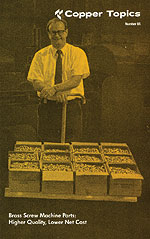 No. 65 - 1989

Inherent Corrosion Protection

Manufacturers of screw-making machinery confirm tests by the American Society for Testing and Materials (ASTM) that production rises by as much as 23 percent, and costs are reduced by as much as 25 percent, when they switch from producing steel screws to freecutting brass screws. Using brass also eliminates the need to plate the steel screws for corrosion protection.
---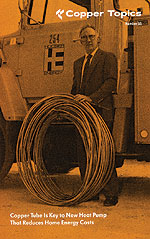 No. 66 - 1989

Harvesting Heat From Underground

A new Direct Coupled Heat Pump reduces home energy costs by as much as 75 percent. Unlike other heat pump systems, the DCHP system's savings result from having its heat-exchange medium circulating through closed loops of small-diameter copper tubing buried in the earth, where temperatures hover constantly around 55 degrees Fahrenheit, even in winter climates.
---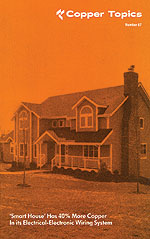 No. 67 - 1990

A Smart House

The Smart House, a futuristic building showcase that homebuyers can duplicate today, features an advanced electricalelectronic wiring system that controls energy distribution, power and communications in residences. Builders are invited to study the new design, which uses 40 percent more copper than used in the wiring of conventional homes.
---
---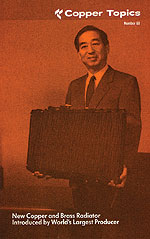 No. 68 - 1990

Durable Air Conditioning

Homeowners are cooler in summer because of the copper coils in airconditioning systems. The world's largest manufacturer of AC systems, Carrier Corp., has switched from aluminum to copper coils because the latter are easier to repair and offer the greatest durability, an advantage to consumers.
---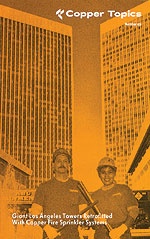 No. 69 - 1990

Fire Sprinklers That Save Money and Lives

To meet local laws, two 44-story office towers in Los Angeles are retrofitted with an automatic copper fire sprinkler system at a cost of $7 million. The project uses 320,000 feet of copper tubing and 30,000 sprinkler heads.
---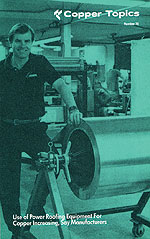 No. 70 - 1991

Eye-Catching Library Exterior

Copper-paneled curtain- wall systems gain in appeal among architects and builders. One system, installed for the Michigan Library and Historical Center in Lansing, uses a 3fi-inch-thick panel consisting of 36-oz. copper sheet plus a foam insulation, with a backup sheet of aluminum. The copperfaced panels are 15 inches wide by 10 feet in length and, in time, will develop an eyecatching patina.
---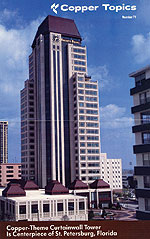 No. 71 - 1991

Better Than Steel

Because brass is easier to machine than steel and higher accuracy can be achieved with it, brass is displacing steel in the manufacture of hydraulic and pneumatic components. Some parts that were made in two steel pieces require only one piece in brass, another cost saving.
---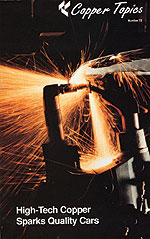 No. 72 - 1991

Stronger Welding

A copper alloy plays a key role in gaining General Motors a Malcolm Baldrige National Quality Award. GM employed a dispersion-strengthened copper alloy for cap electrodes to improve the quality of its assembly-line spot welding. The caps are snug-fitted onto resistance welding electrode shanks to aid the welding of coated steels. Successful weld rates climbed to 97.8 percent.
---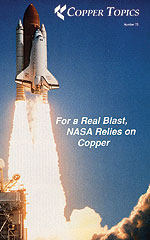 No. 73 - 1992

Faster Personal Computers

Researchers at Rensselaer Polytechnic Institute develop improved integrated circuits in which copper replaces aluminum for better interconnections in electronic devices such as computers. The result: Your PC runs faster because of copper.
---
---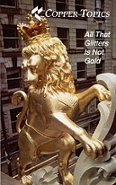 No. 74 - 1993

Saltwater Resisting Doors

A seashore home built just 100 feet from the Pacific Ocean has doors and windows sheathed in copper to withstand salt spray. Most species of wood typically used for doors and windows, if left unprotected, will deteriorate quickly in seacoast environments. This homeowner's copper- clad doors also develop an appealing patina over time, adding to their aesthetic as well as practical value.
---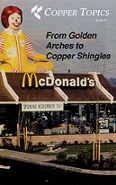 No. 75 - 1993

Big Brass Plays Sax

Saxophone sales boom after Bill Clinton becomes President. A lifelong sax player, President Clinton inspired one maker of the brass instruments to introduce a "Presidential" model painted red, white and blue. Although all saxes made in the USA are fabricated of brass, in Germany a small number are made of copper.
---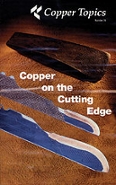 No. 76 - 1993

Safer Surgical Scalpels

Patients undergoing surgery are at less risk and require fewer transfusions because of cauterizing scalpels made of a copper alloy. Cauterizing employs heat to seal wounds and stop bleeding. The Shaw Hemostatix scalpel uses two layers of high-conductivity, high-strength copper to sandwich a hardened steel cutting edge. The new design poses no risk of electrical shock, because the current used to heat the blade does not pass through the patient.
---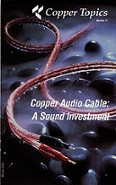 No. 77 - 1994

Improving Motor Oil

Vehicle engines run smoother and last longer because copper is added to lubricants. Motor oil manufacturers typically include additives containing soluble, antioxidant copper to their products, a process originally patented by Exxon Chemical Corp. Exxon considers the copper-based additive to rank among the most significant inventions in crankcase additive chemistry in this century.
---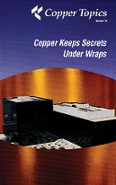 No. 78 - 1994

Non-Sparking Tools

Steel tools can cause dangerous sparks, so workers in grain elevators, chemical plants, fuel tankers and oil refineries are equipped with nonsparking tools made of beryllium bronze. The U.S. Navy and NASA astronauts in space also rely on copper alloy tools. Because these tools are corrosion resistant, they are especially useful in applications such as food-preparation, and due to their nonmagnetic properties they are frequently used to repair sensitive electronic equipment.
---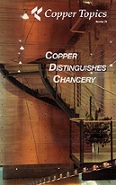 Nos. 79 - 1995

Elegant Monuments and Plaques

Copper and its alloys are widely used in the funeral and burial business. Coffins, vaults, plaques on monuments, and cremation urns are typically made with durable, non-corrosive copper alloys. The lids on some coffins are also affixed with commercial bronzes.
---
---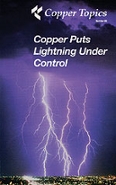 No. 80 - 1995

Effective Lightning Protection

Every man-made structure, including homes, farm and commercial buildings - and especially those far from the nearest firehouse - requires a copper lightning protection system. Tall trees close to homes need the same protection. Experienced installers prefer malleable copper grounding wires and rods to brittle aluminum for these systems.
---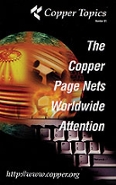 No. 81 - 1996

Lead-Free Faucets

New federal lead-content requirements for kitchen and bath fixtures spur development of lead-free cast red brasses for the plumbing industry. Bismuth and selenium are used as a substitute for lead in cast fixtures. Although the primary reason for this change is in faucet production, the new brasses are expected to find application in valves, backflow preventers and water meters.
---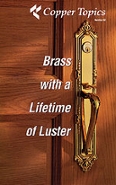 No. 82 - 1996

Wind-Resistant Roofing

Tests by Underwriters Laboratories show that homes with standingseam copper roofing can better withstand hurricane-force winds. This information is especially helpful for residents in Gulf-coast states. The higher cost of copper roofs is offset by the fact that they outlast other roofing materials, including repeated re-roofing with asphalt shingles.
---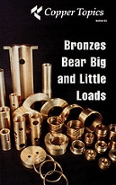 No. 83 - 1997

Durable Home Appliances

Cast copper or sintered bronze bearings are the reason kitchen blenders - and many other small appliances and useful devices - work so well for so long. The copper-based bearings reduce friction, not only in home appliances, but also in automobiles, trucks and virtually all heavy industrial equipment. One bearing bronze, C95400, is nearly as strong as steel but doesn't rust.
---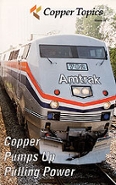 No. 84 - 1997

Historic Record-Keeping

A Dead Sea Scroll made of copper describes a still-undiscovered treasure hidden somewhere in or near the area that is now Israel. Historians speculate that the unidentified treasure may have been hidden from the occupying Romans some 2,000 years ago.
---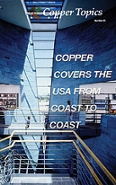 No. 85 - 1998

Vital Piping for Offshore Oil Drilling

Copper is a vital component in the function of offshore drilling rigs, the source of 25 percent of all U.S. oil. In its various forms and alloys, copper can be found in piping, in heat exchangers that cool hot oil from deep underground, in pumps used to inject sea water into old wells to retrieve residual oil, in big generators, and in miles of wiring.
---
---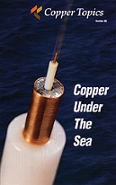 No. 86 - 1998/99

Long-Lasting Radiant Heat Systems

Many installers of radiant heating for homes and businesses favor copper tubing over cross-linked polyethylene (PEX) for underfloor comfort and other applications such as outdoor patios, walks and driveways to melt snow. Proponents of copper cite failures of plastic tubing, which cause extensive damage.
---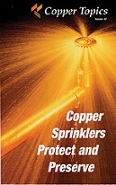 No. 87 - 1999

High-Speed Communications

In the race for everhigher data transmission speeds for telephones and computers, digital subscriber line (DSL) is proving to be a popular and affordable choice. Consumers save because DSL uses existing copper lines for high-speed communications. One hotel that upgraded to DSL spends less than 20 percent for service, compared with the cost of a T-1 line.
---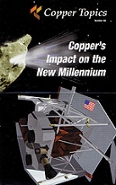 No. 88 - 1999

Solving Solar Systems Mysteries

NASA selects copper for a 770-pound bullet to penetrate comet Tempel 1 on July 4, 2005. Copper is the choice because it's easily discernible in the spectral analysis that will be made of the impact explosion, allowing scientists to determine the composition of the materials that formed the solar system some 4 billion years ago.
---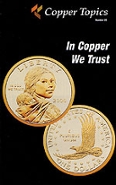 No. 89 - 2000

New Copper Dollar

Pennies can no longer be called "coppers," but the new gold-hued Sacagawea dollar coin, along with billions of new quarters, are mainly copper in composition. An alloy of 77 percent copper plus zinc, manganese and nickel is responsible for the new dollar's golden color. Half dollars, quarters and dimes minted today contain 91.67 percent copper. Nickels are 75% copper, while pennies (since 1982) contain only 2.6% copper.
---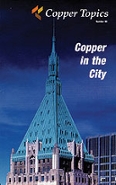 No. 90 - 2000

Heavy Duty Copper Usage

The world's largest trucks, used in mining copper as well as other ores, could not run without large amounts of copper. One model contains 3,575 pounds of copper in its generator and motor windings alone. Another requires up to 2.5 miles of copper wiring. Some of these monster trucks can haul 400 tons per load.
---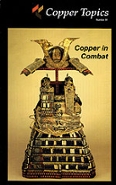 No. 91 - 2001

Guilt-Free Dark Chocolate

No need for guilt when you munch chocolate - doctors and nutritionists recommend it as a readily available source of copper. This vital dietary component has many health benefits, including preventing toxic accumulation of iron in the liver. Dark chocolate contains four times as much copper as milk chocolate. Other tasty sources for nutritional copper are oysters, Brazil nuts, pecans, mushrooms and even chopped liver.
---
---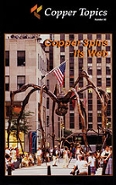 No. 92 - 2001

Safeguarding Electronics From Lightning

A Florida resort pays $3,500 to install a copper-based grounding system that protects $1.5 million worth of essential electronics from lightning. The installation also ensures continuing insurance coverage for the resort.
---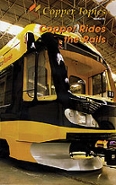 No. 93 - 2002

Light Rail Trolleys

New generations of LRVs, or light rail vehicles (formerly known as trolleys), depend on copper. Cities across the USA are turning to light rail transportation to solve growing urban congestion and traffic gridlock. These modern iterations of trolley cars rely on copper electronics, wiring and components in nearly every aspect: motors, substations, catenary cables, inverters, controls and air conditioning. Unlike old-style trolleys, AC, not DC, motors, power LRVs.
---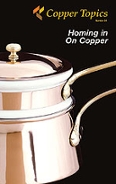 No. 94 - 2002

Copper In The Kitchen

Copper is an increasingly popular finish material for home kitchens. Manufacturers are offering copper appliance facades for refrigerators, freezers and dishwashers. Copper vent hoods, which have been a feature for years, are now being complemented with copper sinks, countertops and backsplashes. And, in the latest trend, copper cookware is sharing kitchen space with copperplated small appliances like toasters, blenders and mixer
---
No. 95 - 2003

Golfers Gain Finesse

Top professionals such as Annika Sorenstam, Nick Price and others favor copper-alloy putters, pitching wedges and other types of golf clubs. The pros credit copper's "soft" metallic feel, which is especially helpful when making short-range finesse shots. Many major club manufacturers now offer copper alloy clubs.
---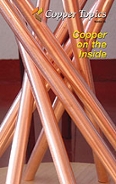 No. 96 - 2003

Back-Up Power Devices

Widespread power blackouts demonstrate the value of backup electrical systems. Sales are strongest for small, portable copper- wound generators that can be used at home or store locations. Many businesses are buying larger units or modifying existing ones to provide power to more outlets, such as powering lights on upper levels of tall buildings.
---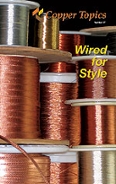 No. 97 - 2004

Accurate Atomic Clock

Rust-resistant brass has long been the preferred material for clock movements, but a five-pound cylinder of ultra-pure copper is the vital element in an "atomic" clock that is accurate to one trillionth of a second. Such accuracy is required by the U.S. Naval Observatory (the nation's timekeeper), and the Global Positioning System used by the military and airline, automobile and shipping industries.
---
---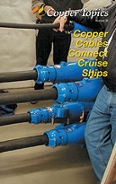 No. 98 - 2005

Underwater Tidal Turbines

Underwater turbines provide power for New York City. Strong river and tidal currents around Manhattan Island are being used to generate electricity, thanks to a large array of copper-wound turbines sunk below the surface of the East River. Three hundred turbines, which can swivel up to 180 degrees with the tide, will provide 10 megawatts of supplemental power over copper cables to the local utility.
---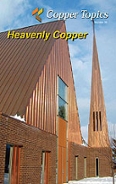 No. 99 - 2005

Preventing Infection

Cloth fibers impregnated with copper oxide are used to create wearable protection against harmful germs. The microbiocidal properties of copper prompted manufacturers to infuse small amounts of copper into fabrics for use in hospital linens and garments, as well as in ordinary clothing such as socks and undergarments. In hospitals and healthcare facilities, this may help to reduce the high number of patients who become infected after treatment. Socks made from the fibers can prevent traumatic infections in diabetics.
---
Also in this Issue:
Four Decades of Innovation: Issues 61 - 99
Archives:
2010   |   2009   |   2008   |   2007   |   2006   |   2005   |   2004   |   2003   |   2002   |   2001   |   2000   |   1999   |   1998   |   1997   |   1996   |   1995   |   1994   |   1993   |   1992   |   1991