A Discussion of Future Trends and Their Influences on the Copper Strip, Sheet and Plate Industry Part 2 of 2
Copper Applications in Innovative Technology
Part 1 of 2 | Personal Computers | Automotive | Wireless | Smart Cards | Coinage | Copper-Nickel Sheathing | Bismuth

Copper alloy strip is the base material for key electrical and electronic product components. Future trends and developments especially in the information technology industry can have a profound effect on the type, quality, and quantity of copper alloy strip manufactured and sold over the next five to ten years. This paper discusses some of these future trends.
Personal Computers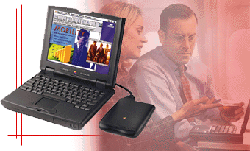 Trend: The worldwide personal computer market will continue to post double digit growth through 2001, with shipments reaching 151.6 million units by then, according to Dataquest.
They report that Asia PC shipments may hit 10.6 million units this year. Revenue from shipments to the Asia-Pacific region, excluding Japan will total $20.8 billion. However, recent turmoil in some Asian countries would inhibit growth, with the negative effects likely to continue into 1998. Still, annual PC shipments in China and South Korea could exceed two million each in 1997. According to Dataquest, PC sales in the Asia-Pacific region will double by the year 2001. Sales will grow from $16.7 billion in 1996 to more than $46 billion in 2001. Much of the demand will come from the education and government sectors. Japan is about five years behind the US in the extent to which personal computers have become established in homes and small businesses, said Intel President Craig Barrett. About 15% of Japanese homes have PCs, compared with 43% in the US. PC use in homes with children is also relatively low.
Home PCs - The North America Home PC market is far from saturated, and won't be for many years. However, Home PC growth in North America should grow at a slower rate than other geographies. The worldwide home PC market is currently dominated by North America which, in 1996, accounted for 60.7% of worldwide home PC shipments.
The Home PC market has been growing faster than the corporate PC market, but began to slow down at the end of 1996. To revive the home PC market, several PC manufacturers introduced PCs retailing for under $1,000. The home PC market has the potential for fueling copper alloy strip products well into the next decade.
Network Computers - Leading computer software and hardware companies recently (Nov. 97) announced that they will work together to develop common standards so that network computers will work with many vendors' servers. Network computers are simple-to-use, lightweight "client" devices that provide users with easy access to corporate data, intranets and the Internet. Introduced in 1996, NCs to date have tended to operate with a limited set of servers.
NCs cost less to own and operate than other desktop devices because applications reside on shared servers, not each individual's desktop. Systems administrators and help-desk operations can save time and money by maintaining a shared application on the server. NC users benefit because their personalized set of commonly used applications, and more importantly, their data, would appear on any NC in their enterprise. Businesses benefit, too: industry analysts have said that NCs cost 40% less to operate than a networked PC. Gartner Group has predicted that 40% of businesses will deploy NCs by 1999, rising to 60% by 2001.
The personal computer market is responsible for the greatest usage of electronic connectors as well as the largest consumer of copper alloy strip products. The growth in this market should remain in the double digits for many more years as new products are continuously introduced and as the rest of the world yearns for more computing power.
Impact: The rate of growth for copper alloy strip products aimed at the PC market will also experience excellent growth on a worldwide basis. However, the growth rate for copper strip should be roughly half that of PCs due to the trend towards miniaturization.
Automotive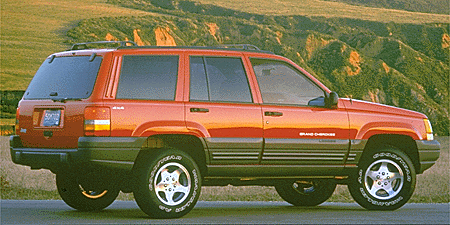 Trend: Electrical and electronic applications are the major consumer of copper and copper alloys in motor vehicles and will be responsible for the major increases over the next five years.
This growth will be driven by the implementation of smart sensors, smart airbags, electronic throttle control and improved exhaust sensors. Beyond five years, it is possible that electric power steering, electric braking and even hybrid vehicles may become commonplace. This should have a positive effect on copper content, but alloy selection, new wire technology and a significant increase in small motors may affect whether a particular copper alloy or product form increases or decreases.
Previous market studies by CDA predicted that copper content in 1997 would average 55 pounds for passenger cars and 45 pounds for light trucks. A follow up to this study indicates that copper content is, in fact, higher that predicted. Passenger cars should average 60 pounds and the level for light trucks is 61 pounds. Data for vehicle type and year are shown below. A number of factors contributed to these higher levels. More copper is being used as an alloying element for cast aluminum parts in the engine and transmission, and electrical and electronic content has increased more than expected. The Light Trucks category includes sport utility vehicles (SUV's) which are being sold in large numbers and, with higher option content, are more copper intensive than pick-up trucks. These trends should continue through 2002 and will provide a significant increase in copper content.
Copper Content per Vehicle in lbs.
Passenger Cars
Light Trucks
1997
2002
1997
2002
Electrical/Electronic
47
50
48
51
Non-electrical
13
15
13
15
Total
60
65
61
66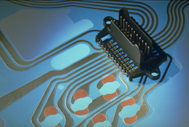 Total copper weight in wire harnesses should increase for both passenger cars and light trucks reaching 32 pounds and 36 respectively by 2002. This increase is expected to occur despite efforts to curtail growth by means of multiplexing and other technologies.
The trend to increased use of junction boxes is continuing because of the design flexibility it affords. This trend is typical of the systems approach being used for automotive electrical systems. Some key electrical system trends include:
Downsized wiring gage in the harness to better match wiring to the load and increased packaging efficiency.
Dramatic increases in electrical load and major systems.
Increased component and systems integration.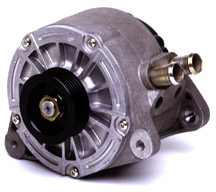 This should result in a larger number of connectors, but possibly smaller in size and with more with specialized properties to improve performance and the ability to be attached to thinner wire.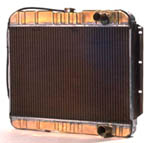 Other wire applications, such as starter, alternator, small motors and battery cables will continue to be major consumers of copper alloys. However, vehicle type and option content will determine whether the growth is modest or significant. Passenger cars may remain stable at nine pounds for these applications, while light trucks should see a growth of one pound per vehicle to a total of eight pounds.
Impact: Copper content for terminals, junctions, switches and relays will continue to grow from a 1992 level of 3.5 pounds per car, to 4.0 pounds in 2002. The drivers for this increase will be reduced cost and improved reliability. The trend to reduce the variety of connectors in a vehicle should continue, as a cost control measure and engineers will continue to concentrate on reliability factors by analyzing the base alloy used and plating technologies. Under-hood temperatures and other environmental factors will continue as the driver for improved design and the use of higher performance alloys.
The use of copper as an alloying element for aluminum and zinc will contribute to a total growth in copper content for non-electrical applications. Projections for 1997 were eight pounds for passenger cars and seven pounds for light trucks. Recent interviews with automotive engineers indicate that these numbers are closer to eleven pounds for both cars and light trucks. These numbers are expected to increase by over one pound, for both vehicle types, by 2002.
Wireless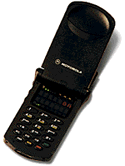 Trend: The 1990s is the decade of wireless communications.
Revenues outpaced computer equipment in 1996. There were 140 million subscribers for wireless at the end of 1996. Of which, there are 33 million digital wireless systems (but, in the US, principally analog). The US has 45 million subscribers with a 30% annual growth rate. Europe has 29 million subscribers, and the Far East has 28 million. PCS digital, running at 1.9 GHz, is coming on-stream in the US. Wireless analog to digital upgrades is experiencing 20 to 60% growth rates.
Smart telephones are emerging, offering two-way paging, fax, email and voice. The marketing for PCS is not the cellular customer, but rather the 1-billion wireline customers in the developed nations as well as the potential several billion in undeveloped countries. Every month, more than 3.5 million people worldwide sign up for new digital wireless telecommunications service. PCS handset growth is projected at 81% per year over the next three years. It is anticipated that the 100-million pager subscribers will grow to over 200 million by the year 2000.
Impact: Base stations for wireless communication and the telephones themselves are electronic connector intensive. There are 11 connectors per headset and approximately 500 connectors per base station. There are presently 50,000 digital cell base stations under construction. In the United States, it is expected that there will be 50 million PCS base stations constructed within the next 10 years.
Smart Cards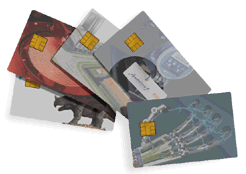 Trend: The market for smart cards is projected to reach $7.6 billion in the year 2000. That's up from $1.2 billion in 1996, a 59% growth rate, says Killen & Associates. From 2000 to 2005, the more mature market will grow 16% annually, reaching $16 billion. The firm predicts banks and other credit card providers will increasingly use smart cards in a system of electronic cash.
An electronic purse is a smart card on which electronic monetary values can be loaded, spent and reloaded rather than hold notes and coins. An electronic purse is more like cash than a debit card, since it makes guaranteed purchases offline - that is, without receiving confirmation from an online database.
An electronic purse is intended for use anywhere that cash and coins are used today, especially for low-value and repeat purchases from many different vendors - for example, small local shops, fast food outlets, buses and trains, pay telephones, parking-meters, and vending machines.
A major factor that has limited the pervasiveness of smart cards until recently was the lack of international standards for smart card technology. But since 1994, the main global payment organizations - Europay, MasterCard, and VISA (EMV) - have worked together to publish common specifications. They have also committed to enable the migration of their cards to smart cards starting in 1997.
Smart cards have an even greater potential for market penetration than credit cards. Some 80% of all transactions are still made with cash. Many of these could be made instead with a smart card that offers a combination of credit card, debit card and electronic purse functions - credit card for high-value transactions (over $100), debit card for medium-value from $10 to $100), and electronic purse for low-value (less than $10).
In addition, electronic passes for toll booths (EZ Pass in NY) are the vehicle equivalent of smart cards and are presently employed throughout the US.
Impact: The widespread acceptance of smart cards by consumers would undoubtedly damage the US coinage market for copper alloys, a roughly 74 million pound market. The upside is that if the electronic purse catches on, every checkout counter in every store will need a smart card reader complete with electronic interconnection products.
Coinage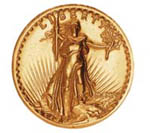 Trend: While not an electronics related product, the coinage market promises to increase over the next ten years.
The US Mint expects to distribute the last of the original supply of 850 million Anthony dollars by 2000. In preparation, the House and Senate approved legislation to create a gold-colored dollar coin and quarters honoring the 50 states. The President signed the measure into law on December 2, 1997. The legislation leaves the design up to the secretary of the treasury, specifying only that the dollar coin be gold-colored and have a different edge than the quarter. Unfortunately, the paper dollar won't be removed from circulation. The quarter legislation calls for the American eagle on the tail side to be replaced with designs commemorating each of the 50 states. The new quarters will be released five designs at a time, beginning in 1999.
Opponents of paper dollars say the $1 coin doesn't stand a chance until the $1 bill is retired, a move taken by Canada when it successfully introduced its gold-colored $1 coin a decade ago. "No matter how beautiful this coin will be, it will not circulate in large numbers," predicted James C. Benfield, executive director of the Coin Coalition. For now, though, the future of the $1 bill is safe.
Impact: Should the dollar coin be widely accepted by the consumer, and the dollar bill be removed from circulation, the coinage component of the copper alloy strip, sheet and plate market could easily increase from the present 74 million pounds to an estimated 150 million pounds or more. It should be noted that these are two very big suppositions.
Copper-Nickel Sheating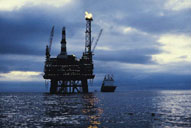 Trend: Due to the prohibitive cost of dry-docking a large marine structure in order to remove the growth of a multitude of sea-life, sheathing materials with anti-fouling characteristics could be of considerable interest to the offshore exploration industry.
There presently exists considerable potential for use of copper-nickel alloy sheathing of the jackets, cables, tension legs, concrete structures and floating offshore structures used in oil and gas exploration and production.
The potential for the uses of copper alloys for marine applications is substantial. The market for copper alloys has been somewhat restricted due to the lack of valid cost-comparison data based on first costs and lifetime costs, poor understanding of fabrication and operational requirements and by the well targeted marketing of stainless steels and titanium. The level of interest has risen significantly over recent years in copper nickels and aluminum bronzes for seawater piping applications. A report published by CDA UK in 1996 comparing properties of aluminum bronzes, stainless steels and Ni-Resist in offshore seawater environments has shown that aluminum bronze is the most cost-effective material based on corrosion resistance properties. Copper-nickels are now being considered for use in situations where stainless steels do not conform to Norsok standards for use at temperatures exceeding 15C.
Impact: Copper-nickel sheathing of offshore structures represents a very large potential market requiring industry promotional efforts to catalyze new installations. The goal is to increase markets for copper alloys for marine piping applications by 20,000 tonnes in the fifth year and an additional 5,000 tonnes of C70600 copper-nickel alloy for sheathing of offshore structures. Although the potential market is quite significant, there must be better understanding of life-cycle cost advantages and attachment technologies on the part of oil companies and the marine engineering community if the concept is to be advanced beyond the few applications to date. A key activity is to conduct a survey of new build projects, for both shipping and offshore applications, to determine potential expansion of the market for copper-nickel.
Bismuth

Trend: Bismuth is a potential future problem for copper and copper alloys used in electrical and electronic application.
Chemistry is one of the most important variables needed for the establishment of high electrical conductivity in copper alloys. The most harmful of these elements can significantly decrease electrical conductivity. Very small bismuth additions significantly increase the electrical resistivity of copper alloys. In the free machining brass industry, bismuth is starting to be used as an alloying element for the replacement of lead. The combination of bismuth and selenium is used as a substitute for lead in potable water applications such as brass faucets and plumbing fixtures.
Impact: Bismuth is extremely poisonous to electrical copper conductors (>1 ppm can not be tolerated), it is imperative that the brass and copper scrap streams be completely separated from one another.

Should bismuth start to appear in copper alloy strip for electronics applications, connector manufacturers will begin specifying the conductivity as well as other properties. The standards covering the chemical compositions of electronic connector alloys will need to be revised to address this problem.
Also in this Issue:
Archives:
2007   |   2006   |   2005   |   2004   |   2003   |   2002   |   2001   |   2000   |   1999   |   1998   |   1997