Press Releases
Articles
Copper Tubing Installations for Natural Gas

By Philip J. Campbell, Training Coordinator
Pipe Trades Joint Apprentice and Journeyman Training Committee for Southern Nevada, UA Local 525 Plumbers and Pipefitters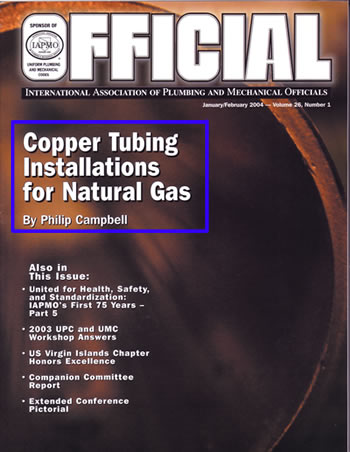 This article appeared in the January/February 2004 issue of IAPMO's [International Association of Plumbing & Mechanical Officials] Official magazine and is reprinted here courtesy of Official.
IAPMO, which historically has been the toughest critic of the use of flexible tubing, makes a convincing case in this article for the use of copper tubing for interior gas distribution systems. The author, who is a recognized plumbing industry expert and a leading instructor on plumbing system installations, presents a well-documented case amply supported by clear facts and applicable code provisions. The article concludes: "Is economics alone a good enough reason to use copper pipe or tube for natural gas installations? The answer is no. We members of IAPMO have never been swayed by economics alone. Our mission in 1946 and our mission in 2003 are one and the same—protecting the health and safety of our nation. If the problems with copper sulfidation were great enough to put that mission at risk, copper would not have been accepted for use in natural gas systems. With the requirements contained in Chapter 12 of the Uniform Plumbing Code for copper installations, we believe that the system is safe....Who knows, in 5000 years another plumber may be giving a seminar on copper systems and noting that the copper found in an ancient training center could still be put into use."
Download the full article [PDF - 7MB].

Copper Tubing Evaluation in a Natural Gas Environment [ A4066-XX/02]
By Materials and Equipment Group, Southern California Gas Company
Results and analysis of a test program that evaluated the useful field life of copper tubing used for natural gas distribution in a typical California natural gas environment is now available as a free online report on our web site. The Materials and Equipment Group of Southern California Gas Company conducted the study and prepared the report, which concludes that bare and tin-lined copper tube perform well within the company's criteria.
Key Test Program Highlights
Copper tube is an acceptable piping material for fuel gas systems in all major model fuel gas codes in the United States including the ANSI Z223.1/NFPA 54 National Fuel Gas Code (NFGC) and has been accepted in this code since its inception in 1974. In addition to the model codes, many state and local jurisdictions have accepted the use of copper tube in this application for many years, some dating back to the 1950s. During this time copper has proven to be a safe and reliable material for fuel gas distribution systems.
In the 1970s, there were reports of customers in the Southern California Gas Company service area experiencing field problems caused by blockage of orifices or regulators due to sulfide flaking of copper tubing. (Generally, such flake formation is caused by the presence of excessive sulfides and moisture in the supplied gas.) As a result, copper has not been widely used in California for residential fuel gas distribution, despite the fact that none of the reported problems resulted in safety related concerns, such as tube perforation or gas leakage; they were characterized as customer service issues only.
Since that time, no data has been available specifically addressing how copper tubing would perform with gas supplied by the California gas company. The purpose of this test program was to specifically answer that question by setting up a test program in one of the test facilities of the Southern California Gas Company. The test was done in cooperation with the gas company, which was equally interested in obtaining objective test results.
The acceptable "useful service life" of the copper tubing is defined in the report as having a remaining wall thickness of greater than 80% of the standard nominal wall thickness of the tube at the end of 20 years in service. For the standard ½-in nominal diameter, 0.05-in thick wall copper tubing samples (1/2-in Type K annealed copper tube was used), the allowable wall loss is 10 mils. This was based on the assumption that corrosion wear was uniform throughout the samples. As such, the wall loss was calculated on the basis of tubing sample weight measurements before and after the specified exposure period.
The projected wall loss at 20 years of service life for bare copper tubing is well below the 10 mils limit. Based on a uniform wall loss assumption, the data suggest that bare copper tubing would maintain structural integrity for the duration of its "service life."
Tin-lined copper tubing did not exhibit susceptibility to sulfide corrosion, while the tin coating was intact. It was clearly more resistant to corrosion than bare copper tubing, although there were isolated corrosion pits formed on the surface but no indication of deep penetration due to corrosion. However, two areas of tin coating failure were observed in which the unprotected copper tubing reacted in the gas stream to form copper sulfide. Regardless, the results indicate that the tin-lined copper is well within the performance criteria and can be expected to have a useful life much longer than the requisite 20 years indicated in this test. Also, the results indicate that the tin-lined copper tubing should not exhibit any significant potential for blockage of orifices, valves or burners due to the release of significant amounts of friable corrosion products.
Download the full technical report [PDF - 1.24 MB, 20 pages].
A condensed version of this report with key technical details of the test program, the test data and analysis is available in our Innovations section.