October 2001
According to the electrical industry, some 50,000 technicians will be needed over the next 10 years just to meet the growing electrical demands of our high-tech society.
High school graduates contemplating a future-or anyone else considering a career change or advancement-would be wise to consider an electrical apprenticeship program. The opportunities available in this field have never been better.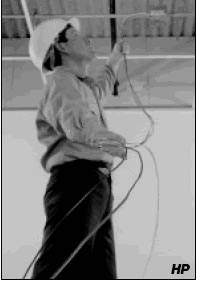 "There's a dramatic shortage of electrical workers," says Bob Baird of the Independent Electrical Contractors (IEC). "With public attention focused on layoffs and unemployment, it's a perfect time to remind people of all the advantages the electrical industry offers."
A.J. Pearson, executive director of the National Joint Apprenticeship Training Committee, a program sponsored by the National Electrical Contractors Association and the International Brotherhood of Electrical Workers (NECA-IBEW), agrees. "We have been actively promoting our apprenticeship program because of the growing manpower shortage. Right now, we have some 48,000 apprentices in 290 programs around the country. Over the next five years, we want to increase that to 65,000."
Apprenticeship programs for electrical and telecommunications workers are among the best in the country. Not only do they pay a good wage to trainees, but apprentices also receive college credit for their courses. Salaries earned by graduates can be more than one-and-a-half times the national average (depending on location and area of specialty). The U.S. Department of Commerce reported in 1997 that the average annual wage for all workers was $29,787, while high-tech workers, like electricians, averaged $52,920. The current worker shortage makes the electrical field even more attractive.
Why are electrical workers in such demand? The incredible growth of computers and Internet use is a major factor. So is America's love for all things electronic. The result is a dramatic increase in electricity use, which generates a need for upgraded wiring and the workers to install it.
"In addition to our joint apprenticeship program we have 70,000 journeymen taking advanced courses on everything from cabling to sophisticated control systems," Pearson notes. "We are focused on the future, and the need for ongoing training is just as critical as the present demand."
Baird points out that the IEC has 76 chapters around the country. "When it comes to becoming an electrical apprentice, location will not hold anyone back. The need for skilled workers is a national concern. The current manpower shortage cuts across geographical, political and philosophical borders.
"Look around-you can see we're using more electricity every year," Baird adds. "To put this in perspective, it took 38 years before the telephone was adopted by 30 percent of Americans, 17 years for television, but only 7 years for the Internet to reach this level of use. The pace of growth and speed with which new innovations take hold ensures that we'll need many more electrical apprentices for years to come. Without a skilled labor force, it will be a dim future indeed."
For more information on electrical apprenticeship programs, please visit the National Joint Apprenticeship Training Program, or the Independent Electrical Contractors Web site. Learn more information on electrical and telecommunications applications.