July 2006
When people think of copper in their homes, what usually comes to mind is kitchenware, plumbing pipes or electrical and communications wiring. But that perception is about to change, according to design and décor experts. While copper plumbing and wiring continue to perform in the home, the aesthetic beauty, durability and superior physical properties of copper are making it the material and color of choice for home décor and accents inside and out.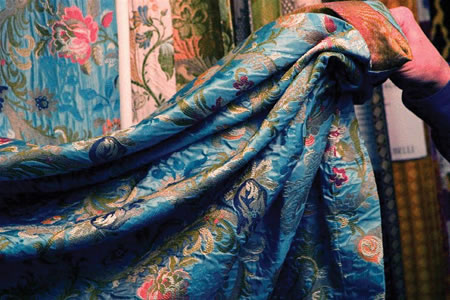 If you haven't yet noticed, take a look at what the home and fashion magazines, set designers and best-dressed shop windows will display in upcoming months. You'll see copper everywhere - from interior walls, curtains and floor coverings to the kitchen, basement and bedroom and even out into the front yard and up on the roof. Homes are definitely "going copper."
For a variety of reasons, the design industry is seeing a shift in demand from bolder primaries to more relaxed, earthy hues. According to Leatrice Eiseman, executive director of the Pantone Color Institute, "Copper and the varied colors of alloys like brass and bronze invite a nurturing feeling, and in the stressful times we're living in, the need to embody warmth resonates with a lot of people."
Paints the color of copper, brass and bronze are also gaining in popularity. Their warm, vibrant hues perfectly complement any room in the house and are finding use as an accent on crown moldings and other trimmings. In line with this trend, one of the world's largest paint manufacturers, Rohm & Haas, recently debuted a line of interior paints in a natural mineral and earth-toned palette.
Technology is playing a role in the emergence of copper in home décor. New methods of embroidery and weaving allow designers to introduce copper filaments and other metals into fabrics. Copper metal is now prominently featured in drapes, window treatments and accessories like throw pillows, picture frames, fabric chair covers and shams.
Copper metal is used to enliven the aesthetics of home exteriors, as well. Everyone knows how beautiful a copper roof can be, but what about other accoutrements? An Oregon-based copper fabricator notes that exterior copper roof caps are among its best-selling items, while wrought copper chimney caps, gutters and scuppers are in high demand for their physical beauty along with their ability to resist the growth of moss and lichens. Homeowner interest in copper weather vanes, finials, mailboxes and custom copper lampposts is also on the increase.
In today's homes, copper plays an increasingly prominent role in fixtures and appliances. Consumers are asking for, and installing, copper sinks, bathtubs and even toilets and bidets. Copper is also featured in countertops and lighting fixtures, as well as day-to-day necessities such as utensils and cookware, where it has always been highly valued for its excellent heat transfer properties.
To learn more about the many architectural and interior uses of copper, please visit the CDA Web site.