Solid Brass Padlocks Now Available to Consumers
A new line of all-purpose, weatherproof, solid brass padlocks called Top Brass is headed for major retail outlets around the country. The Wilson Bohannan Co. of Marion, Ohio, expects to sell more than one million padlocks the first year.
According to William R. Houck, company president, that will more than double sales for the 132-year-old firm, which Houck says is the nation's largest manufacturer of brass padlocks. The Top Brass line marks Wilson Bohannan's entry into the consumer market. "Market studies are favorable and we've done our homework, so there's no reason why we shouldn't succeed," Houck says.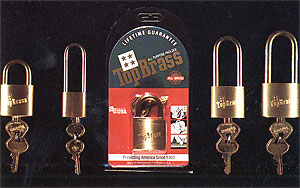 "We've been making solid brass locking devices from the beginning, but selling chiefly custom design locks to utilities and other large corporations. We've sold brass padlocks to most major U.S. utilities," Houck reports.
We've always sold a brass product, because brass is weatherproof, durable, easily machined and looks wonderful," Houck says. "All of our padlocks are designed for use outdoors or indoors, in wet or dry conditions, all seasons of the year."
Houck explains that a typical lock consists of as many as 33 parts, all brass. "The total brass construction eliminates the possibility of rust. The only exception is some padlocks with steel shackles [the loop part] that are special orders."
"On any given day, we'll have 80,000 to 100,000 pounds of brass on hand," states Randy O. Dawson, operations manager. "The brass comes to us in rod form and in extruded shapes. Wilson Bohannan designed and built most of its own precision machinery to fabricate the lock parts and finished assemblies.
Dawson explains that "like all Wilson Bohannan locks, the Top Brass padlock gets two white-glove inspections - once to make sure it opens and closes properly, and once for cosmetic reasons."
Appearance, especially for a retail product, is important. Currently, Top Brass products are not lacquered. Rather, they are brushed with oil to preserve their "penny bright" look. But, because this process is labor intensive, the company is exploring other ways to package the locks to maintain their pristine look. Should the lock take on a tarnished look over time, "all you have to do is polish it, because it's solid brass," Houck says. The lock company is exploring the use of special protective packaging with Daubert Coated Products Inc. of Westchester, Illinois.
Also in this Issue:
Solid Brass Padlocks Now Available to Consumers
Archives:
2010   |   2009   |   2008   |   2007   |   2006   |   2005   |   2004   |   2003   |   2002   |   2001   |   2000   |   1999   |   1998   |   1997   |   1996   |   1995   |   1994   |   1993   |   1992   |   1991