Copper Forever: The Timeless Home
The "Timeless Home" deserves this appellation because of its extensive use of that timeless metal, copper. Civilization's first metal, whose first alloy gave rise 5,000 years ago to the Bronze Age, takes many forms in this handsome home in metropolitan Atlanta:
Copper roofing, flashing and gutters
Apron-front kitchen sink
Lighting fixtures
And, of course, in plumbing, wiring, appliances and hardware.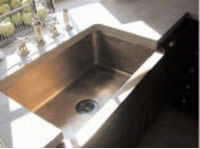 The Timeless Home was a project of This Old House Magazine and was also featured on a segment of the popular TV program, "This Old House," aired from Atlanta this past spring. It was also covered in detail in "Everything's Coming Up Copper," an article by reporter Connie G. Freightman in The Atlanta Constitution. She wrote that "...copper's making a comeback in traditional and cutting-edge decor."
Local building contractor Jason Yowell built the 4,200-square-foot home for his own family. He was quoted as saying: "It's the warmth and quality copper imparts to the whole house. It lasts."
His endorsement of copper was echoed by Atlanta-based Kay Douglass, who was the interior decorator for the home. "I like copper," she said. "It has a great patina. It adds a touch of warmth and age to a house."
The architect was Bostonbased Jeremiah Eck, who added: "Copper has a fantastic patina all its life. It's a beautiful metal to work with. It was perfect for this house."
Kay Douglass Interior Design: 404-995-0802
Jeremiah Eck: 617-367-9253
Also in this Issue:
Copper Forever: The Timeless Home
Archives:
2010   |   2009   |   2008   |   2007   |   2006   |   2005   |   2004   |   2003   |   2002   |   2001   |   2000   |   1999   |   1998   |   1997   |   1996   |   1995   |   1994   |   1993   |   1992   |   1991