Copper Enhances City Hall
A key element in the grand renovation of the Ponca City, Oklahoma, City Hall are the copper arches over the main entrance. When the building was erected in 1917, the original, single arch over one door was made of painted tin. However, designer Richard Winterrowd opted for triple arches using what he considers a more timeless material, copper. He also specified copper for the vaulted ceiling of the entrance foyer.
As Winterrowd, who is with the firm of Lewis Associates Architects, Ponca City, puts it, "Copper requires no maintenance, has the malleability for the sculptural elements, and will patinate to a natural finish over time. Copper also conveys sophistication and elegance. It is enduring, evoking the idea for the structure to last. This facility has served the city for 85 years, and it is expected to survive another 100 years or more".
To accomplish his vision, Winterrowd relied on Residential Copper, Ponca City. Its highly skilled coppersmiths assembled the expanded arches over all three adjacent doors with no visible screws, rivets or other fasteners. Components are soldered together to prevent any water from penetrating. While working with copper, they wear white gloves to prevent skin oils from marring the natural patination process.
The required copper sheets were cut to very close tolerances by a machine that emits a jet of water at 50,000 psi. According to Residential Copper's business manager, Joe Jackson, the water jet can cut metals up to eight inches thick. After trimming to the desired dimensions, the copper is formed on a German "Schelbuch" machine and a brake, both controlled in three dimensions by computer. Although the two-year-old company forms other sheet materials, Jackson emphasized that copper was "most suitable" for the City Hall.
"We wanted to put a sparkling jewel on the front of the building", concludes Winterrowd. "Copper was the right way to do this, and Residential Copper provided the critical expertise". In addition to this project, Residential Copper has created church spires, cupolas and other architectural components out of copper.
Mayor Delighted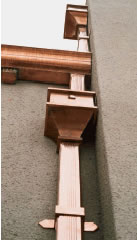 When Mayor Tom Leonard first saw the plans for the renovation, he knew it was going to be spectacular, but the realization has exceeded his expectations. "I cannot imagine having it done without copper. Those who come to City Hall are amazed by what they see".
There are pebble-textured copper panels juxtaposed with shiny, smooth battens on the ceiling of the entrance foyer. The copper has been treated to make sure it stays bright. To create the copper elements, Residential Copper used its CAD/CAM system plus the costly water-cutting system. The coppersmiths obtain all their copper from Revere Copper Products.
Lewis Associates: 580-765-3317
Residential Copper: 866-467-1777
Revere Copper: 800-448-1776
Also in this Issue:
Copper Enhances City Hall
Archives:
2010   |   2009   |   2008   |   2007   |   2006   |   2005   |   2004   |   2003   |   2002   |   2001   |   2000   |   1999   |   1998   |   1997   |   1996   |   1995   |   1994   |   1993   |   1992   |   1991