Copper Imparts Distinction to Building Interiors
Copper plumbing tube, a decorative element? "Most certainly", respond architect Wendy Evans Joseph, homeowners Toni and Larry Lyerly and builder Dan Blue.
Joseph, who is New Yorkbased, specified lots of copper for her extensive renovation of a Frank Lloyd Wright-designed, 19-story tower erected in Bartlesville, Oklahoma, in 1956. The former penthouse of the Midwestern building is now a restaurant which uses copper plumbing tube for the intertwined legs of its tables, foot rails for its two bars, and towel racks in the lavatories.
The long-abandoned tower, originally an office/residential building, was one of the first such "mixed-use" structures. Later it became a not-for-profit arts center and, now, has been converted into an upscale hotel called the Inn at Price Tower.
Other copper elements are the tops of the bars and tables, screens, trim for lighting fixtures, various millwork items, and even the toiletpaper holders.
By including so much copper, Joseph, a former president of the Architectural League of New York, is paying homage to Wright's original concept. His design included many patinated copper panels, both inside (see photo of hotel bar) and on the exterior of the tower. He also specified some copper office furnishings. To crown her achievement, the former penthouse is now the "Copper Restaurant and Bar", with many copper decorative elements.
Joseph says she is "inspired by copper" and has used it in several projects. She feels its warmth and beauty are, at once, both traditional and contemporary. "You can use copper for the most avant garde designs without forsaking its age-old charm".
Homeowners Devoted to Copper
Copper plumbing tube purchased at a local hardware store has a commanding presence in the home of Tony and Larry Lyerly. Because the couple liked the look of copper so much, they requested its use, inside and out, for their new, custom-built, waterfront home in Seven Lakes, North Carolina. Most evident are the balusters (see photo) for the stairs and balcony rails and the riser. They are made of common, one-inch-diameter copper plumbing tube that the builders purchased at a local hardware store.
Remodeling Tools Available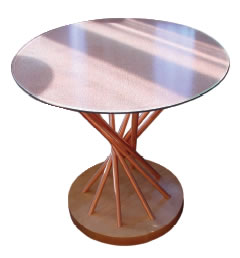 Awaterfall behind the fireplace in the living room has a copper back wall; the water falls into a catch basin and is recirculated. In addition, Mr. Lyerly made lighting fixtures out of store-bought components that illuminate his pool table. The home's gutters and valleys are also made of copper.
To retain the original brightness of the copper tubing, it was burnished and then coated with polyurethane. Since the home was erected more than a year ago, the balusters have not tarnished, according to builder Dan Blue of The Signature Group of North Carolina in Southern Pines.
Instead of using an architect, the builders and Lyerlys relied on plans for the timberframed, 6,600-square-foot residence, which were provided by Harmony Exchange of Boone, N.C. "We're delighted with the results of using copper in our home", say the Lyerlys. "It's simple and elegant".
In addition to the Lyerlys' home, The Signature Group is designing copper tubing into the railing of the deck for a home in Pinehurst, N.C. Dan Blue said it will use two-inchdiameter tubing as the handrail and one-inch-diameter tubing for the lower rails. All copper rails will be horizontal and will terminate into stone columns.
Harmony Exchange: 800-968-9663
Inn at Price Tower: 877-424-2424
Wendy Evans Joseph: 212-935-3392
Signature Group: 910-245-3774
Also in this Issue:
Copper Imparts Distinction to Building Interiors
Archives:
2010   |   2009   |   2008   |   2007   |   2006   |   2005   |   2004   |   2003   |   2002   |   2001   |   2000   |   1999   |   1998   |   1997   |   1996   |   1995   |   1994   |   1993   |   1992   |   1991