Copper Rotors Preferred
General Motors' Allison Division uses copper rotors in the electric motor portion of the power trains that propel 235 hybrid buses in Seattle. Each of these big, articulated buses has two 100-kW induction motors. When the vehicle starts moving, the induction motors, acting in concert with the diesel engine, draw power from big nickel metal hydride batteries to propel it. To help brake the vehicle, the induction motors act as generators, delivering power to be stored in the batteries. GM claims that the hybrid versions are 60% more fuel efficient than the standard version.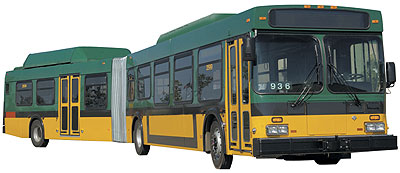 Because the use of copper rotors contributes materially to the induction motor's efficiency, the designers chose to use rotors welded out of bars of copper for these motors instead of the less-efficient aluminum rotors often found in motors this size.
With the price of oil hovering around $50/barrel, the fuel savings are much appreciated, but dramatically lower tailpipe emissions was the motivator for opting for hybrid propulsion in Seattle, according to Transportation Authority spokesperson Linda Thielke. Seattle's city route takes the buses through a long tunnel with poor air circulation. When Seattle couldn't find similar replacements for the old diesel-electric buses in service, it opted for 235 from New Flyer, Winnipeg, Canada, equipped with parallel hybrid electric systems from GM Allison, Indianapolis, Indiana. (The buses were assembled in Minnesota.)
New Flyer, which claims to be the biggest maker of large buses in North America, has already sold five to Vancouver, British Columbia, with others in use in Philadelphia, Minneapolis, Salt Lake City and Houston, among several other U.S. cities.
Many other vehicles are likely to be equipped with motors using the highly efficient copper rotors. FedEx, which operates tens of thousands of trucks, is testing 20 "medium-duty" trucks in New York City, Sacramento and Tampa equipped with hybrid propulsion from Eaton Corp., the giant vehicle-parts supplier headquartered in Cleveland. FedEx spokesman Ryan Furby says, "The trucks are performing exceptionally well. For example, the two trucks in Sacramento have experienced 99% up time. The trucks decrease particulate emissions by 96% and travel 57% farther on a gallon of fuel, reducing fuel costs by more than a third." It's too early to say to what extent FedEx will implement hybrid technology, but it is committed to this advance, which would be helpful to FedEx customers because its fuel surcharge is 11%, the highest ever.
Although the rotors in the buses in Seattle use welded bars of copper, the day is approaching when many rotors will be cast like the GM aluminum rotors commonly used. Several European manufacturers of induction motors are now casting rotors out of copper, and American manufacturers, well informed on this advance, may follow suit. Very large induction motors have long depended on wire-wound copper rotors. Of course, the stators in all induction motors are wound with copper.
Cobasys has recently licensed to Panasonic the technology to use copper nickel for the negative electrodes in its NiMH batteries for hybrid vehicles.
Many major car manufacturers are introducing hybrid vehicles this year, and all rely on copper-based electronic controls to operate and to maximize their efficiencies. The average amount of copper in today's standard passenger vehicle is about 55 pounds; hybrids will move that up 30%-40% as they strive to improve fuel efficiency and reduce pollution.
Copper vs. Air Pollution
In addition to its pollutionreducing role in buses, there's another important way in which copper is reducing central-city pollution - the revival of light-rail transportation. For more on this subject, see Copper Topics #93.
GM Allison:
317-242-5000;
www.allisontransmission.com

Eaton:
216-523-5000;
www.eaton.com

New Flyer:
204-224-1251;
www.newflyer.com
Also in this Issue:
Archives:
2010   |   2009   |   2008   |   2007   |   2006   |   2005   |   2004   |   2003   |   2002   |   2001   |   2000   |   1999   |   1998   |   1997   |   1996   |   1995   |   1994   |   1993   |   1992   |   1991