October 2004
Central Distribution Device manages phones, Internet, audio/video distribution and other home electronics.
In the past, when life was simple, telephones and televisions didn't talk to each other. Not so in today's homes, where 21st century electronics allow computers to link up, send TV and radio programs to other rooms and even preheat your oven while you're out buying groceries.
Residential communications networks are becoming more affordable and practical every day, which means that just about any application you can imagine is within reach. But all this interconnectivity can be difficult to manage. The easiest way to get control of your home network is to put it in a box - what installers call a "central distribution device" or CDD cabinet, much like the service panel that organizes your home's electrical wiring.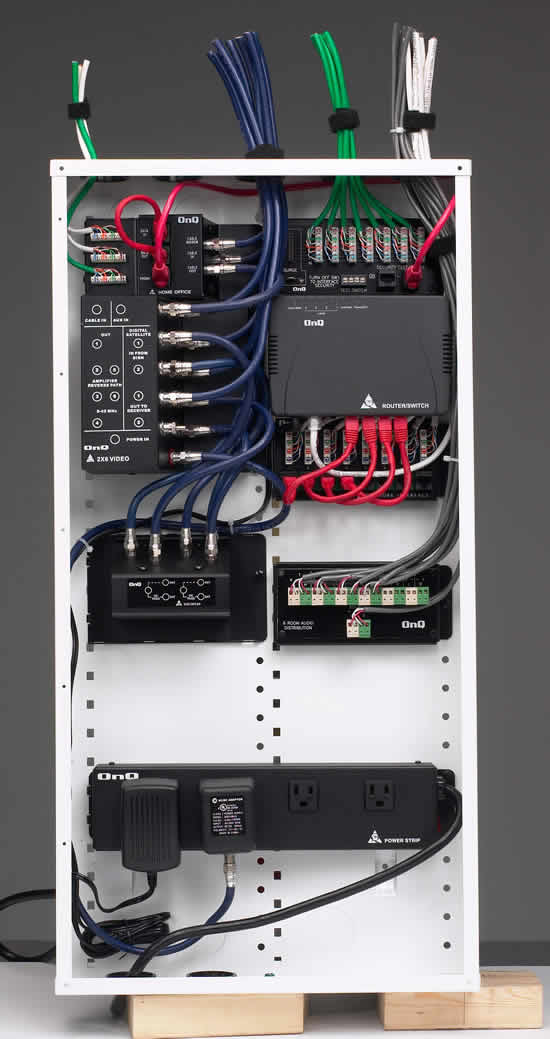 No matter how simple or sophisticated your home network, it will include these basic components:
Wires coming into the home for services such as telephone, satellite service, cable television and broadband Internet access.
Inside wiring, also called structured wiring, running from a central location directly to each telephone, data and video outlet.
Outlets or jacks in various rooms for connecting telephones, computers, printers, TVs, cable boxes, monitors, security cameras and other electronic devices.
Additional components may include audio wiring, home theater controls and in-wall speakers.
A CDD provides interconnectivity for all of these features. Most of the wires terminate in individual modules, which are installed in the CDD for computer networking, video splitting, signal amplification and the like. This modular arrangement also makes it easy to add new features, such as home security and home automation systems.
Many homeowners approach networking with a hodge-podge of routers and hubs, but a versatile home communications system requires a CDD where all wires converge in one location. If you already have hubs and routers in your home, you can greatly enhance their use by making them part of a CDD.
The central distribution device is the heart of a home network. It should be located near the center of your home and its size should be matched to the future needs of your home. Each communications wire or cable in a home is run directly from each outlet to the CDD. This is called "starwiring" because the wires radiate out from a central point. Within the CDD, any outlet can be connected to any service or to any other communications outlet in the home, using high-speed cable or wire connections - typically Category 5e wiring and RG-6 quadshield coaxial cables.
The real star of residential communications wiring systems is the copper in the Category 5e wire and coaxial cables. Unlike the phone and cable wiring of the past, today's copper-core structured wiring can handle high rates of data transmission, and it will remain the standard for wiring far into the future.
If you are thinking about networking your home, do it properly by installing a CDD. A new educational CD-ROM, "Structured Wiring for Today's Homes," is available free on request from the Copper Development Association. For more information, visit the CDA's Telecommunications section.