April 2007
New 'appliance' helps with cooking
Computers are showing up in the darnedest places.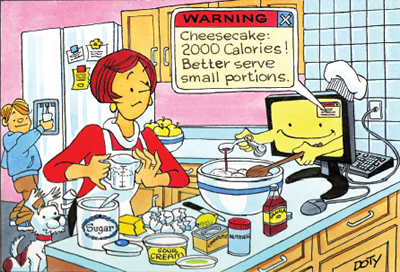 Not long ago, one computer in the home was enough. Typically, it would be in a den or home office. Soon after, the kids needed Internet access in their rooms to do their homework and messenger their friends. Then online video gaming became popular, so Internet access migrated to family rooms, living rooms and home theaters. As home entertainment systems went digital, home networks were tapped for storage and distribution of video and audio. Meanwhile, flat-panel TV screens proliferated throughout the house, further increasing the need for networking.
Megabytes in the Pantry
A computer may not seem to be an appliance that belongs in the kitchen - but think again. There are many practical reasons to have Internet access there.
If you like to cook, just go online and search using the key words "video" and "recipe" to find some 50 million food-related "hits." With Internet access in the kitchen, you can also follow the techniques of a master chef step-by-step in the creation of culinary delights.
A kitchen computer is also a good place to access your personal online calorie counter and fitness logbook. You can quickly look up the dish and enter the serving size, allowing for greater control of caloric intake. As the saying goes, "If you can't measure it, you can't control it." The Internet has website such as www.caloriecontrol.org that make it easier than ever to measure those excess calories.
The kitchen is typically the most popular gathering place in the home. Expecting an important e-mail? Need to messenger the kids when dinner will be ready? Or just check on sports scores or movie times? Chances are you'll be in or around the kitchen when you do.
Homeowners and homebuilders are taking heed of this phenomenon, so Internet access in the kitchen is a growing trend.
CDDs and Routers
Internet access in the kitchen and other areas of the home is easy to achieve with structured wiring. New homes are required to have at least a basic structured wiring setup, but smart buyers can opt to extend it throughout the house. When remodeling, it's usually not difficult or expensive to add structured wiring. A remodeling contractor may be able to install it, or he will know someone who can.
Structured wiring typically consists of Category 5e communications wiring bundled with RG-6 coaxial cables for video. These are installed in a star pattern with a central distribution device (CDD) at the center of the star. Internet connectivity can be distributed through a router to many locations in the home. Usually, the router is installed in the CDD, where connections and changes are easily done.
While wireless networking may sound attractive, structured wiring provides more reliable and secure connections. "Structured wiring provides the most satisfaction when it comes to networking your home," says John Cowie, communications wiring manager of the Copper Development Association (CDA). For more information, visit the CDA's Telecommunications section.