October 2005
New technologies make possible "dream homes" beyond your wildest dreams. Television displays are bigger and better. Whole-house audio provides unparalleled sound quality. The ever-expanding World Wide Web brings home whole libraries of information. Corporate private networks are reaching into home offices and transforming workaday lifestyles. All the while, broadband connections to the home are becoming faster than ever.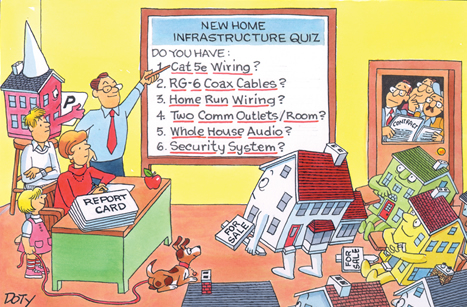 These technologies are already within the reach of the average household. But lack of home communications wiring system could trample on many dreams of digital utopia. Unfortunately, many builders are taking shortcuts and not installing the infrastructure that is necessary to implement these technologies in new homes. This infrastructure essentially consists of structured wiring installed behind the walls in a star configuration with terminations at a central distribution device.
Report Card Time
Recognizing that many homebuyers are not experts in communications wiring, the Copper Development Association has developed a blank " report card"(PDF 109KB) on communications wiring. Modeled on the traditional elementary school report card, the form is easy to use and understand. It assists the homebuyer in asking questions about and comparing the level of structured wiring installed in the homes they are considering.
Based on the builder's responses and the homebuyer's expectations, the homebuyer assigns grades of "excellent" (E), "satisfactory" (S), "needs improvement" (I) or "poor" (P), to various aspects of the communications wiring infrastructure.
Feedback to Builders
"Other tech-home rating systems are often too detailed or too technical for the average homebuyer to understand," says John Cowie, manager of Residential Communications Wiring for the CDA. "This report card empowers homebuyers with a quick-and-easy grading system. The homebuyer could optionally pass out completed report cards to builders. That would give the builders feedback about whether or not they are meeting the demands of the marketplace with respect to the communications wiring infrastructure."
CDA is also preparing a communications-wiring report card for apartment hunters. For more information on what you should be looking for in your new home, visit CDA's Telecommunications section. Back to Top