Copper alloy tooling has been shown to offer a number of advantages to the injection molded part designer and molder. The excellent thermal conductivity of copper alloys reduces cycle times and, at the same time, can improve part quality. In this example, the primary objective was control of part warpage. To accomplish this, the main core was specified in a high conductivity beryllium-copper alloy. Decreased cycle time was secondary a bonus advantage.
The Whirlpool Experience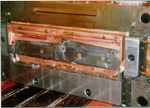 When Whirlpool Corporation tooled their new Generation 95 line of dishwashers, their primary objective was to manufacture to the highest possible quality level. Thomas Buckleitner, director of technology at the Findlay Division, wanted to improve on an already high quality product. An innovative technology advance was required to control warpage on deep ribs and improve straightness and flatness on the exterior of a dishwasher front control bezel.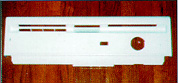 Gus Vargo, senior process engineer in Whirlpools plastic operation, led a team of professionals in brainstorming approaches to improve on the quality and economics of molding this challenging 24-inch long part. Their solution was to use a beryllium-copper alloy core to provide the necessary uniform cooling required to obtain the demanding quality levels. The same part on the previous dishwasher models was very difficult to mold and meet the specification of 0.040 inches maximum warp across the edges of the console housing, even with long cycles. Findlays manager of plastic operation, Mark Buehrer, noted that the quality improvement of the console housing was dramatic; initial findings during the first several months of production with the new copper alloy core showed no parts exceeded 0.020 inches of warpage and assembly difficulties were much reduced. While the primary objective of the new tooling was to improve part quality, a 20% reduction in cycle time was realized due to the improved cooling of the beryllium-copper alloy core. Additionally, sink marks on the Class A surfaces were substantially reduced, markedly improving the esthetic quality of the finished product. With the sink mark problem resolved, lower injection and pack pressures could be used, resulting in a stress-free part while saving material in each piece produced.
Production
The first generation molds utilized Type 420 stainless steel for both the core and the cavity with multiple 7/16-inch water lines and baffled cooling channels. Operating within the computer-generated mold cool recommendations and with 80°F water circulating, the stainless steel core was too hot to touch immediately after part ejection. Even when operating with a 20% longer cycle with the stainless steel mold, the heavy polyvinyl chloride housing with wall thickness of more than 100 mils, due to UL requirements, needed long cooling times to hold the edges and ribs within specification. The esthetic quality requirement for this large, complex part is demanding, as are its functional assembly requirements . Even after conformance checking each part molded in the stainless steel mold by the Molding Department, the Assembly Department encountered difficulties in assembly.
Warp and straightness on these parts was the problem; 0.060 inches of warp was typical. The new generation of molds solved this thermal problem by employing cast beryllium-copper alloy C82500 for the main core. This alloy was cast by TriCast Corporation, Crystal Lake, Illinois, by a novel process they refer to as liquid forging, wherein pressure is applied to the liquid metal during solidification. The part contour was conventionally machined by A-1 Tool Corporation of Melrose Park, Illinois, on CNC milling equipment and the deep ribs burned in with a sinker EDM machine. A-1 reported no machining problems in building this porosity-free beryllium-copper core. Although this particular core was produced from a cast beryllium-copper billet, the tool builder might also have chosen to start with heavy, hot-worked beryllium-copper or other high-strength high-copper alloy plate stocked by U.S. copper alloy producers and distributors. The integrated modern and well-equipped molding operation processes more the 25 million pounds of plastics, mainly polypropylene and polyvinyl chloride, each year. With the high volume capacity demanded, multiple molds are required to insure adequate molding capacity.
Other Applications for Copper Alloys in Molds at Whirlpool
The first mold incorporated steel inserts in the core shut-off areas where interchangeable cavity inserts are used to mold variations of the housing for different dishwasher models. After finding no adverse hobbing or wear on inspecting the core's parting line surface, lifter, slide and shut-off areas after the first run of 500,000 parts, the decision was made to replace the steel inserts with another high-copper, high-conductivity alloy, C18000, to further improve the cooling and achieve additional cycle reductions. Subsequent molds for this same part will feature solid beryllium-copper cores, as Whirlpool is confident that the copper alloy core has the integrity to withstand the many cycles which will accumulate over the five-year planned life demanded of each mold.
Whirlpool assembles more than 4,800 dishwashers a day in their clean, state-of-the-art one million square foot Findlay Division which employs 2,000 people. Their new Generation 95 Dishwashers incorporate about 25 pounds of plastic into each machine. The integrated modern and well-equipped molding operation processes more the 25 million pounds of plastics, mainly polypropylene and polyvinyl chloride, each year. With the high volume capacity demanded, multiple molds are required to insure adequate molding capacity.
Their large tub molds, built by Triangle Tool in Milwaukee and A-1 Tool, incorporate additional copper alloys to guide and align the heavy wedges, lifters and slides required to mold these large parts. Whirlpool's choice is aluminum bronze alloys C61900 and C62500 for these applications. These large molds with complex internal actions have moving components weighing more than 500 pounds and must be precisely guided and aligned to provide a flash-free part. The aluminum bronze alloys provide the perfect wear surface required in this demanding application. Press size ranges from 3,800 tons and down and consist of modern Battenfelds and Cincinnati Milicron molding machines.
Useful Resources

Bronzes are unquestionably the most versatile class of bearing materials, offering a broad range of properties from a wide selection of alloys and compositions.

The high thermal conductivity of copper alloys makes them ideal materials for the injection mold sprue bushing and runner bars.

In North America two injection mold nozzle and sprue bushing radii are used, 1/2 and 3/4 inch. To insure proper fit up, the nozzle radius is nominal -.015 inch, while the sprue radius is nominal +. 015 inch, required tolerances to use.